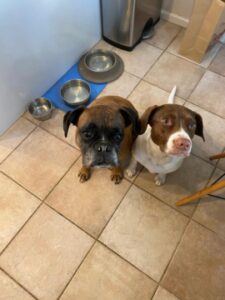 As crucial members of our families, it's increasingly common to include our pets in our holiday plans. Whether it's a Fourth of July barbeque, a crazy family Christmas or even a very romantic Valentine's celebration – you should always consider your pet's health and well-being.
We've compiled this list of handy hints for surviving just about any holiday with a happy and healthy pet. For anything unavoidable, you should look into securing the best pet insurance alternative.
Skip the human snacks
Food is central to most celebrations, and while it's so tempting to want to include our furry friends in the festivities, it's not always in their best interest to do so.
Not all human foods are suitable for your pets. Things like onions and garlic are commonly used in many tasty dishes and are not to be given to your pets. Never give your pets anything with alcohol.
One of the best holiday pet tips is sticking to your pet's usual food; it's always best to avoid any drama or disaster that could ruin your holiday celebrations.
The following is a list of ingredients that you should avoid sharing with your pets:
Chocolate
Coffee
Garlic, onions, chives
Nuts
Raisins
Bones (these can splinter and get stuck in your pet's throat
Xylitol – a popular sugar alternative used in many sugar-free products
Rely on routine
A handy tip for keeping your pet healthy and happy throughout any holiday is to try to stick to a routine as much as possible.
If your floof is accustomed to a long run first thing in the morning, try to keep that going. Toilet routines are crucial to stick to so you can avoid any unpleasant accidents.
Remember that large gatherings, fireworks, and loud music can distress your pets. Make sure you take the time to calm and reassure them, and if needed, administer some calming aids.
Prepare a comfortable and secure spot for them with all their favorite foods and toys so that they have somewhere to retreat when it all becomes too much.
Outfits and decorations
Decorations are just part of the fun of holiday celebrations, but they can present a danger to your pets. When it comes to holiday pet safety, seasonal plants like holly, ivy, and mistletoe can be problematic as they are poisonous to pets if eaten. You should also use other decorations like twinkling lights and candles with care around pets, or best yet, placed out of reach of inquisitive little floofs and be aware of dog wound care guide.
Do you want to dress your pet up for the celebration? It's darling and fun to dress up your pets, but when you choose to do this, there are some things to remember.
Your pet should always have the full range of motion; be able to run, jump, and walk. Make sure you supervise a pet in a costume, as costumes can hook and catch, which poses a hazard.
Never force your pet into a costume. If your pet looks unhappy, stressed, or anxious, take the outfit off. A fun holiday costume is not worth destroying your trust relationship with your pet.
Traveling with pets
Whether you take your pets with you for the holidays or leave them behind, it's essential to consider a few things.
Flying with pets can be very traumatic for them. Chat with your vet about the best way to do this to mitigate the stress. Ensure you adhere to all the vaccination and health requirements to avoid problems. International travel can require preparation long in advance.
Some breeds of pets may not be eligible to travel. For example, dogs and cats with short noses (think pugs, bulldogs, and Persian cats) can experience breathing trouble and are deemed high risk. Chat with your vet.
If you're traveling by car, ensure your pet is restrained and comfortable. This includes using a carrier or harness that secures your pet away from any airbags. Stop regularly for leg stretches and toilet breaks. Chat with your vet beforehand about general holiday pet safety and car sickness remedies too.
Emergency plans
Make sure you save emergency numbers where they are easy to find. These include your regular vet's number, the number of the nearest after-hours emergency animal hospital, and a poison control hotline.
If you're traveling, research how to get to the nearest vet, so you're not trying to navigate an unfamiliar place when stressed.
Final thoughts
The holidays should be fun and stress-free, and they can be as long as you take some holiday pet safety precautions. Knowing the potential dangers to your cats and dogs is the first step that will allow you to manage any potential risks. Knowledge about Animal Wellness and some holiday pet tips can go a long way to keeping your pet happy and healthy.