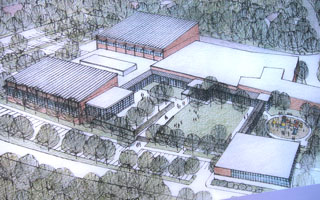 Their mission statement says, "The JCC on the Hudson is a welcoming, inclusive gathering place where we enrich the greater community by offering social, recreational, educational and cultural opportunities guided by Jewish values."  A groundbreaking ceremony took place in Tarrytown on Thursday, October 8 for the new JCC on the Hudson.
A 6.6 acre community campus will be constructed, the first time in forty years within Westchester County.  According to their press information, "The festivities on the 8th [were] much more than just a shovel in the ground to the Rivertowns, which boasts the fastest-growing Jewish population in Westchester – 19%, according to the UJA-Federation of NY Jewish Population Study (2011). It is the culmination of a journey beginning 25 years ago with the Yonkers JCC."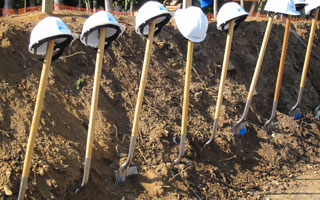 New buildings will encompass 75,000 square feet as opposed to the current 17,600 square feet. Membership is anticipated to increase from 550 to 1800. The numbers of people being served annually are projected to rise from 3500 to nearly 12,000.
Two indoor swimming pools will be added along with a 6000-square-foot,  state-of-the-art fitness center,  an auditorium, full-size gymnasium, youth lounge and café. 
The new campus will be called the Howard & Elaine Shames JCC on the Hudson. Mr. Shames has been a lead donor on the project.
Dignitaries from the State, County and local governments were on hand and many spoke of the contributions the JCC has made to our communities and of their excitement for more great things to come.