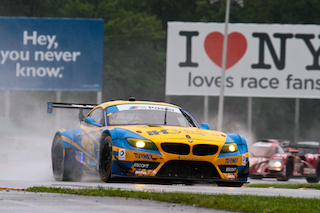 Award-winning wineries, awe-inspiring gorges, and motorsports. Didn't expect the third?  If you're looking for a different kind of weekend getaway this summer—one that mixes racing and relaxation—we know just the place. It's called Watkins Glen. Originally established in 1948 on the very streets of the town from which it takes its name, Watkins Glen International is more than your average racetrack. 
It is no secret that when it comes to the ever-changing landscape of American road racing, there is no stop on any series' schedule more historic than "The Glen"— as it is cherishingly called by fans. Nestled at the base of the Finger Lakes, just outside a village of less than 2,000 residents, the list of racing legends who have left their mark here is striking, to say the least. Brabham, Gurney, Stewart, Hunt, and more recently, Martin, Dixon, Gordon, Busch. From the former United States Grand Prix that ran through an otherwise quaint street course, to the NASCAR Sprint Cup Series' now-annual visit, this iconic upstate New York circuit is rich in history, yet continues to offer something new.
For the first time since its inception, this 3.4-mile road course underwent a complete repaving last year. Typically, a new racing surface means more grip. To the layman? Faster speeds and in many cases, better racing, which is exactly what The Glen is set to deliver in its 2016 season.
"From start to finish, we're extremely pleased with how the project went," Watkins Glen International President Michael Printup said. "All winter long, we've been talking about what these improvements are going to do for racing at The Glen. Our fans are chomping at the bit to get here and see it firsthand." At just under a 4-hour drive from Westchester County, this puts a whole slew of racing fans right within reach of the rolling hills of western New York.
New York's Finger Lakes region isn't just home to stunning finger-shaped bodies of water and very fast automobiles. There is much to see, and not a far drive  in order to see it.
Watkins Glen State Park offers an abundance of hiking trails, naturally carved gorges and jaw-dropping waterfalls. The Finger Lakes National Forest—the only national forest in New York State—is another expansive alternative for those looking to hit the trail.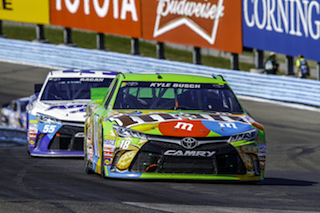 Then, there are the vineyards. The Seneca Lake Wine Trail includes an impressive 50 local wineries, but that number is bumped up to over 90 when the annual Finger Lakes Wine Festival rolls into town from July 15-17. This yearly gathering has grown to become one of the largest wine festivals on the east coast, and many attendees come to The Glen during this time, for the wide range of restauranteurs, craft vendors, live music and educational seminars on the grounds. What? You thought The Glen's summer festivities were limited to the pavement between the powder blue guardrails? If you need more convincing, or wine simply isn't your thing, The Glen plays host to the Finger Lakes Beer Festival, October 21-22, which features the best of the region's craft breweries along with live music and entertainment; but before that, there's a whole lot of racing to be done.
This year promises an impressive lineup of upcoming races at The Glen with appeal for every type of racing fan, enthusiast, and even those with a newfound interest in the sport. Whether it's Sahlen's Six Hours of The Glen on Fourth of July weekend, NASCAR's Sprint Cup Series in early August, or the United States Vintage Grand Prix in September, it is safe to say that the best of North American road racing will be on display in the Finger Lakes region this year. If you're planning a trip when there's no event on the calendar, enthusiasts can bring their own cars up to The Glen and experience the course firsthand with some paced laps.
Whatever the nature of your trip to The Glen, or Watkins Glen, we would be remiss if we didn't remind you about those finger-shaped bodies of water, the wine and the waterfalls.