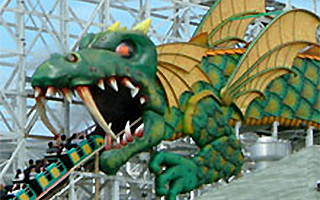 Get ready to zoom, spin, splash, swing and soar your way through acres of amusement park rides from the cooling log flume to the famous Dragon Coaster and all your other favorites as Playland Amusement Park in Rye hosts its opening day, Saturday, May 10. (Rain date for opening day is Saturday, May 17).
The fun gets underway with a parade and entertainment beginning at 11 a.m. and rides opening at noon.
Special opening day admission is $15, which is good for unlimited rides until the park closes at 7 p.m. Admissions go on sale at 10:30 a.m.
The opening celebration begins with strolling entertainment at the Fountain Plaza at 11 a.m., followed by the traditional parade with the Port Chester High School Marching Band accompanied by local dignitaries, staff and Playland's mascot, Coaster the Dragon.
Grab a seat in front of the Music Tower Theater stage to hear the band Reunion perform hit sounds from the '50s,'60s and '70s. at 1 p.m., 3 p.m. and  5 p.m.
Erik's Reptile Edventures will educate and entertain you with his animal ambassadors featuring Wally the five-foot- long American alligator. Shows take place in Kiddyland and at the Music Tower Theater stage; show times will be posted in the park. Playland's Kiddyland DJ will also entertain with the "Play it DJ" show, in four performances at 1 p.m., 3 p.m., 5 p.m. and 6 p.m. Kids will move, groove and be smooth as our DJ plays their favorite dance tunes.
Admission prices:
$15 May Days: May 10, 11, 17, 18 and 23: $15 unlimited rides; $15 Junior (under 48")
Starting Saturday, May 24: $30 unlimited rides; $20 Junior (under 48") – Westchester residents with acceptable proof of residency are eligible for a $5 discount on these prices. Spectator admission (no rides) is free for Westchester County residents and $10 for non-residents.
Season Passes:
$95 for unlimited rides all season, with a $15 discount for Westchester residents. Purchase four or more and save 10%.
$35 for spectator admission all season (no rides), for non-residents of Westchester County.
Acceptable proof of Westchester residency is a Westchester County Park Pass; New York State driver's license or non-driver I.D.; or a photo I.D. or report card from a Westchester County school.
Playland's pre-season schedule is noon to 7 p.m. Saturdays and Sundays until Memorial Day weekend, after which the spring schedule begins. For the season's schedule go to ryeplayland.org or call the park at
(914) 813-7000. Use the Website link to join the Playland E-Club and receive valuable discounts all season long.
Become a Facebook fan at Playland Facebook and follow Playland on Twitter and Instagram.
Parking is $5 weekdays, $7 weekends and $10 on holidays and certain concert days.
Playland is located at the end of Playland Parkway in Rye. For public bus transportation, go to westchestergov.com/beelinebus.