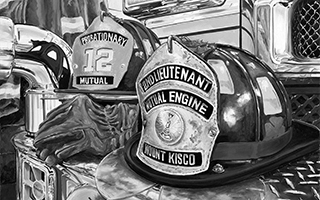 The painting might not look like a traditional oil painting but it's still a winner. Rich Alexander is still quite pleased that his image of firefighters' helmets took the honorable mention prize of the 2013 Torrit Grey Competition put on by the Gamblin Artists Colors company of Portland, Oregon.
The Gamblin company offers the annual competition with a bit of environmentalist recycling behind it. It takes all the pigment dust from its other paint products and mixes them into a new color, and names the result after Torrit, the company that provides the air filtration units. The color is never the same, changing from tube to tube even within the same year and batch.
Complimentary tubes are provided to painters around the world under the provison that artists only use white, black and Torrit grey for the contest.
Alexander added that it was a great honor to be named an honorable mention winner. "I'm on cloud nine and grateful to Phil from Thompson's Art Supply in White Plains, NY. Phil told me about the contest and encouraged me to enter."
Alexander has been painting with oil for two years and has recently retired from the New York City Fire Department after a 21- year career there. To view the artist's paintings go to richalexander.artistwebsites.com
The painting is on display through July at Thompson's Art Supply in White Plains.