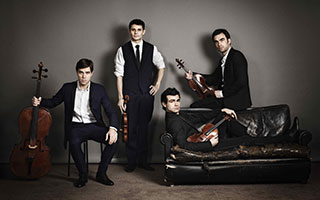 Chamber music lovers are in for a triple treat this spring when Friends of Music Concerts, Inc. presents three concerts in April and May.  Performances will be held in Kusel Auditorium at Sleepy Hollow High School, 210 North Broadway (Route 9) in Sleepy Hollow, with the exception of the April 18 performance, which will be at the Briarcliff High School Auditorium, located at 444 Pleasantville Road, Briarcliff Manor, NY 10510.
All performances are on Saturdays at 8pm and parking is free.
At right, Modigliani String Quartet will perform for Friends of Music Concerts at Briarcliff Manor High School on April 18 at 8pm.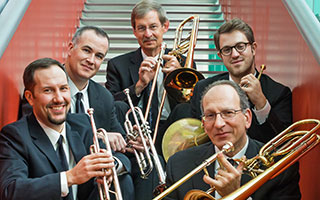 April 18, 2015 – Modigliani Quartet *Please note change of venue above.  A recent favorite of our audiences, the Modigliani has been called "one of the best quartets in the world" by a German critic, and referred to as "a fab foursome" by the Seattle Times.  In 2014 the Quartet became artistic directors of the Rencontres Musicales d'Evian, a summer festival on Lake Geneva in the French Alps, made famous by the cellist Mstislav Rostropovich. Included in the program for Friends of Music will be Mozart's  String Quartet in D minor, K. 421 Claude Debussy's String Quartet in G minor, Op. 10, and  Ernst von Dohnanyi's String Quartet #3 in A minor, Op. 3.
May 2, 2015 – American Brass Quintet Although the ABQ was founded in 1960, this is the group's debut performance on Friends of Music's series. Instruments include two trumpets, tenor and bass trombones, and horn, playing music originally written for brass. The ABQ has been in residence at Juilliard since 1967. The program will include Elizabethan Consort Music, edited by Raymond Mase; Osvaldo Lacerda's Fantasia and Rondo; David Snow's Dance Movements; Witold Lutoslawski's Mini Overture for Brass Quintet; Josquin de Pres's Chansons, edited by Raymond Mase;  and Eric Ewazen's Colchester Fantasy       

Saturday, May 16, 2015 – Juilliard Baroque Formed in 2009 by musicians connected with Juilliard's then new Historical Performance Department, this group returns to close Friends of Music's 61st season with an all-Bach program. The musicians include period instrument specialists who have performed with nearly every major international early music ensemble. Works by J.S. Bach chosen for this concert include Concerto for oboe, violin, strings; Continuo in F Major, BWV 1053R; and Musikalisches Opfer, BWV 1079.          
Adult single tickets to individual concerts are $30 each.  Students age 18 and under are admitted free of charge. Tickets may be purchased in advance by mailing a check to Friends of Music Concerts, P.O. Box 675, Millwood, NY 10546, or will be available at the door. More information about Friends of Music Concerts may be obtained from the web site above or by calling 914-861-5080.
Founded in 1953, Friends of Music Concerts is an all-volunteer, non-profit organization that showcases a wide range of musicians who demonstrate the diversity and fine quality of chamber music today.  Concerts are made possible, in part, by a Basic Program Support Grant from ArtsWestchester with funds from Westchester County Government, by a grant from the New York State Council on the Arts (NYSCA) with the support of Governor Andrew Cuomo and the New York State Legislature, and by generous support from private individuals and corporations.