This article deals with man's best friend and all the other creatures that we share our lives and homes with. Household Pets come in a variety of species and like all living things, they need a proper environment to thrive in and a caretaker to help them when their health suffers. Those who are interested in exotic pets may consider getting one of the ball pythons for sale online.
At the Valley Cottage Animal Hospital in Rockland County (fifteen minutes from Tarrytown) veterinary medicine is at it shining best, due to a state-of- the-art facility, professional receptionists (that greet you and don't keep you waiting by performing other tasks), licensed veterinary technicians and a group of veterinarians that adore the animals they serve. If it sound too good to be true, a visit will verify all of the above.
We sat down with Tarrytown resident and majority owner of the Valley Cottage Animal Hospital, Dr. Patricia Collins. She was born in New York City, moved to Munich, Germany and studied there. She also did research in animal pharmacology at Cornell University upon returning to the States. "I always had an interest in biology and chemistry and loved animals," she said. She has been at the Valley Cottage Animal Hospital since 1992.
The 6400 square foot facility is two miles from the Palisades Mall on Route 303. Walking through its doors one is met by a large and comfortable waiting room with a stone-tiled floor, comfortable chairs and benches, amenities in the form of television, chilled drinking water, and fresh coffee. Front desk Receptionists greet patients and their owners and focus on confirming scheduling in a friendly and professional manner. Front desk staff do not need to  answer phones; they attend to the needs of the animals and their owners. "We have ten veterinarians and we still have the feeling of a small and cozy hospital," Collins added. That small and cozy feeling is reinforced by a range of services that make it easy and comfortable for people to bring in their pets. "We have a wide range of appointment times for people who work, and we are open daily until 8pm to accommodate our patients. We are also open on Saturdays until 5pm. After hours we always have a doctor on premises at the Hospital for emergency services," she said.
We spoke to Dr. Jessica Downing, a partner with a special interest in emergency room care. "Emergency medicine and critical care has to be of very high standard because you are talking about an animal's life that is on the line,"she said. Translating those high standards to specifics and care offered at Valley Cottage she added, "We have the appropriate equipment, knowledge and assistance to save an animal's life. Without those the patient would die, fail or be subjected to an unnecessary recovery period." At Valley Cottage Dr. Downing said they take the best of their best licensed veterinary technicians (LVT's) and place them on their emergency care shifts. "They have to be highly skilled and able to place catheters, draw blood, use and monitor the equipment and know  these procedures like the back of their hand. Since we are taking in patients with a range of conditions varying from debilitating low blood pressure to very serious traumatic injuries, we need the best of the best in our people," she said. "In addition we have state-of- the-art equipment that can monitor how well the patient's blood is saturated with oxygen. If we have a head trauma case we will measure how much oxygen is getting to the brain because we will need to be very aggressive with our oxygen supplementation."  This attention to detail in life threatening cases permeates Valley Cottage, and the personal attention patients receive is magnified in such instances.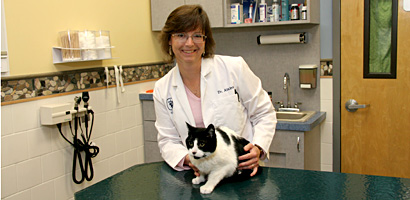 With regular day-to-day care Dr. Linda Atkins helped to clarify her role and history with Valley Cottage. "I started working here in 1980 as a kennel attendant. I went on to work as a technician for the Hospital and graduated from Cornell Veterinary School in 1991. I started here in 1993 and there was a need for someone to do exotic work which includes guinea pigs, rabbits and birds — some of the pocket pets," she said. For those with pet spiders, you will need a good pet jumping spider enclosure. For partner Dr. Atkins her vocation was clear early in her life. "I always loved animals and I always wanted to be a veterinarian." She has also specialized in ultrasonagraphy which is a technology for looking into the abdomen, kidneys and liver for diseases, tumors or cancer. "We also use it to evaluate the heart and its functioning," she said.  When asked to categorize the hospital, she was quick to respond. "We practice quality medicine and we continually update from year to year so as to not stagnate. You have to do that in this day and age." Dr. Atkins is also the veterinarian for the Bear Mountain Zoo and her practice includes wildlife.
Dr. Diane Tortorice is also a majority owner of the Valley Cottage Animal Hospital.  She is board-certified in canine and felline practice as a diplomate of the American Board of Veterinary Practitioners.  Her special interests include internal medicine and ultrasound diagnostics. Dr. Tortorice has been a part of the fabric of the Valley Cottage Animal Hospital since 1997. Dr. Diane Tortorice was awarded her Doctorate of Veterinary Medicine in 1991 from North Carolina State University. She has been a member of the Rockland County Disaster Medical Assistance Team (DMAT) since 2004 and in 2006, served as the founding veterinary member of the County Animal Response Team of Rockland (CARToR).
For further information about Valley Cottage Animal Hospital call (845) 268-9263 or visit them online at www.valleycottageanimalhospital.com .