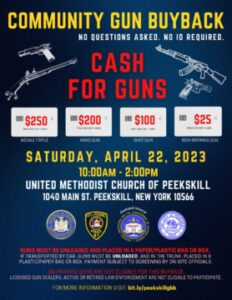 The Westchester County District Attorney's Office, together with the Peekskill NAACP, the Peekskill Police Department and the City of Peekskill, will host a community gun buyback event to be held on Saturday, April 22 from 10am to 2pm at the United Methodist Church located at 1040 Main Street in Peekskill. Eligible participants will be offered up to $250 in pre-paid gift cards for surrendered firearms with no questions asked.
Westchester County District Attorney Miriam E. Rocah said: "Gun buybacks are a part of our ongoing efforts in promoting gun safety and ensuring unwanted weapons are disposed of safely. We thank our partners in the City of Peekskill—from the NAACP to the Peekskill Police Department and the Mayor's Office–for their shared commitment toward reducing gun violence, including gun-involved suicides."
Peekskill NAACP President Priscilla Augustin said: "As the first branch of the national NAACP to have established in Westchester County nearly 90 years ago, the Peekskill NAACP has been leading the fight against violence in our communities while promoting peace and safety for generations. It is meaningful to have valued partners at the Westchester County DA's Office, Peekskill Police Department and the Peekskill City Mayor's Office supporting events we have been organizing for decades. We encourage the public to take advantage of this opportunity to safely turn in any firearms in exchange for cash."
Peekskill Police Department Chief Leo Dylewski said: "The Peekskill Police Department is proud to partner with the District Attorney's Office, the Peekskill NAACP and the Mayor's Office for this community gun buyback event, which is an opportunity for the public to help us potentially prevent the next possible gun-related incident, as well as keep guns out of the wrong hands. It's also a chance to get rid of old firearms lying around the home as a good measure of safety."
Peekskill Mayor Vivian McKenzie said: "Community gun buyback programs help get guns off the streets and out of our communities. I thank the DA's Office, the Peekskill NAACP and our Police Department for hosting this event with the City of Peekskill, and supporting our fight against gun violence so we can ensure our residents feel safe and secure in our neighborhoods."
Guns must be unloaded and placed in a plastic bag, paper bag or box. If transported by car, guns must be unloaded and, in the trunk, placed in a plastic bag, paper bag or box. Identification will not be required and no questions will be asked. Participants will be offered money in the form of pre-paid gift cards: $250 for assault rifles, $200 for handguns, $100 for shotguns or rifles, and $25 for non-working guns. Payment is subject to inspection and screening by onsite officials. There is no limit to the number of firearms that can be surrendered. 3-D printed guns are not eligible for the buyback program. Licensed gun dealers and active or retired members of law enforcement are not eligible to participate.
For more information, visit bit.ly/peekskillgbb