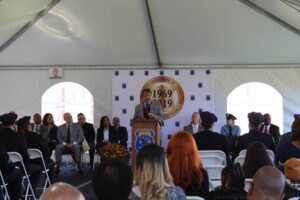 On Thursday, October 19, the Westchester County Department of Correction (WCDOC) held a formal promotional ceremony at their grasslands complex for six Captains and ten Sergeants. Dignitaries, Department officials and approximately 60 family members gathered under a large outdoor tent on the DOC grounds to celebrate the newly promoted supervisors.
The ceremony began with a call to order, opening prayer and a presentation of the colors by the Department's Honor Guard, who entered the tent accompanied by bagpipers and drummers of the Westchester County Emerald Society.
County Executive George Latimer said: "Losing a large number of senior employees during a short span of time presents many operational challenges, especially at a Correctional Agency. In addition to learning the duties of your new positions you are tasked with replacing hundreds of years of operational knowledge and experience. To better support you, the DOC Administration has proactively enhanced the training curriculum for all levels of their sworn workforce. That enhanced training combined with your experience and individual skillsets should prove beneficial as you transition into your new roles. Rest assured that my administration will continue to provide resources to support the advancement of our Corrections Department, its workforce and those remanded into their care and custody."
County Executive Latimer also praised Deputy Commissioner Leandro Diaz, who is retiring at the end of the month after 34 years of service. "Over the course of his distinguished 34 year career at WDOC, Leandro held the rank of Correction Officer, Sergeant, Captain, Assistant Warden and Deputy Commissioner. At every level worked, he served as a role model, a strong leader and an agent for positive change. Leandro leaves WDOC with an impressive list of accomplishments that have contributed to the advancement of our national recognized Department of Correction."
First Deputy Commissioner Nory Padilla welcomed attending dignitaries and promotional class family members. As First Deputy Commissioner in charge of the promotional board she said, "I enjoyed the thorough vetting process and learning more about each of you. Your hard work, professionalism and commitment to the core mission of our Department was evident during that process and certainly contributed to our final promotional decisions."
In addressing the promotional class, Correction Commissioner Joseph K. Spano touched on expectations, including the potential impact that each individual supervisor can have on different aspects of DOC operations.
Spano said: "As newly promoted Captains and Sergeants, you are expected to meet the challenges of your new positons and work up to our expectations by serving as strong leaders, mentors, role models and agents for positive changes. Let your experience, actions, words and new ideas serve to enhance the growth of our nationally recognized department, the growth of our workforce and the growth of the men and women in our care. With the support of County Executive Latimer and his team we have promoted 48 sergeants, 23 captains and 2 assistant wardens over the past 3.5 years, unprecedented numbers. With the challenge of losing so many senior members of our agency over a short period of time comes opportunity for our newly promoted supervisors. In your new supervisory roles, we trust that you will build on our successes and to be difference makers for staff, our residents and for the future of our Department."
At the ceremony, Commissioner Spano also highlighted how the Department has taken steps to enhance training curriculum for new Correction Officers, Sergeants, Captains and Assistant Wardens. Some formal training enhancements include effective communication, more on-the-job scenario based training, debriefing modules, WDOC IT systems instruction, use of force and De-escalation, off-site formal middle and senior management leadership training sessions.
PROMOTED CAPTAINS           PROMOTED SERGEANTS
Joanne Antoine                                 Austin Cardany         Christopher Costa
Matthew Kitt                                     Andria Detomoso      Cherie Garcia
Jeremy Hurley                                   Eric Giancola             John Mastriacovo
Shawn Seawright                              Trameeka Nabors     Kyle Schrader
Shakea Spruill                                   Daniel Walter            Tyrell Williams
James West