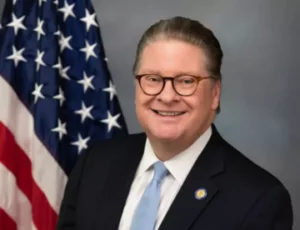 The New York State Senate unanimously passed two bills this week sponsored by State Senator Pete Harckham that help and honor first responders—one to expand health benefits for volunteer firefighters, and the other to designate March 25 as "Medal of Honor Day" in New York State.
The first bill (S.1180) will make permanent the long-standing law covering disability determinations for volunteer firefighters due to heart and coronary ailments. The Senate approved last month similar legislation (S.1176) regarding firefighter benefits and lung care.
"While serving our communities and protecting our residents and businesses, volunteer firefighters often incur major diseases and ailments, especially those dealing with the heart and arteries," said Harckham. "It is only right that we reciprocate and safeguard the health of these brave first responders whenever possible. This bill, like its companion legislation regarding lung diseases, will eliminate a sunset clause in existing legislation while streamlining access to much deserved health benefits."
Volunteer firefighters provide an invaluable service to New York State and our individual communities. (There are about 80,000 volunteer firefighters in New York, down from 180,000 in 2000.) Accordingly, it simply makes sense to prevent unnecessary worry on the part of volunteer firefighters and their families as to whether or not they will receive their benefits.
Heart and coronary artery disabilities for firefighters exceed those experienced by the average adult population in the U.S. Recent data shows that myocardial infarction—a heart attack—is the leading cause of in-the-line-of-duty deaths among firefighters. Meanwhile, those firefighters suffering from arrhythmia cannot take blood thinners because of risk of injury in the line of duty. The cause of elevated heart risks in firefighting is the exposure to smoke, particulate matter and other inhaled pollutants.
Harckham's bill amends the 1977 law that grants important lung health care benefits to volunteer firefighters. The current law needs to be renewed legislatively and enacted every five years. Similar health benefits for full-time firefighters, though, do not need to go through a regular renewal process—even though career and volunteer firefighters are exposed to the same risks. Harckham's bill will end this disparity and give volunteer firefighters and their family members security and peace of mind about access to critical benefits.
"We would like to thank Senator Harckham for his leadership in securing the passage of this important piece of legislation in the State Senate," said Edward Tase, Jr., President of the Firefighters Association of the State of New York. "Cardiac events are the number one killer of firefighters in the U.S. year after year, with about 60% of firefighter fatalities coming from cardiac conditions. FASNY wholly supports this legislation that will remove the sunset clause, make this long-standing benefit permanent, and strengthen an important safety net for firefighters. We now look to the Assembly to follow the lead of Assemblymember Zebrowski and pass this in their house."
The highest military decoration awarded to individuals in the United States Armed Forces, the Medal of Honor (a.k.a. Congressional Medal of Honor) is conferred upon those "who distinguish themselves through conspicuous gallantry and intrepidity at the risk of life above and beyond the call of duty," according to the U.S. Department of Defense. To date, there have been 3,530 awardees of the Medal of Honor, with 19 service members having received the award twice since it was first conferred in 1863.
Interestingly, all living Medal of Honor recipients receive an invitation to attend the Presidential Inauguration; and whether in or out of uniform, they are to be saluted by other service members, even those of a higher rank—the only instance when this courtesy is allowed.
Harckham's legislation (S.1181) seeks to honor those service members who have received this prestigious recognition by commemorating March 25th as "Medal of Honor Day" in New York State. When enacted, the law will take effect immediately.
Karl Rohde, director of the Putnam County Veterans Services Agency, said, "Over 600 New Yorkers are recipients of the Congressional Medal of Honor. It is time to recognize what they collectively gave to our nation through their heroism. Having a special day set aside to honor these heroes is a great first step forward in recognizing what these brave service members have accomplished."