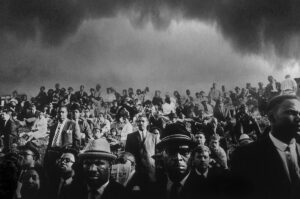 The Capa Space is proud to present "American Moments: John Shearer" an exhibition of iconic photographs from acclaimed photojournalist John Shearer from December 9, 2023  to April 7, 2024.  An opening reception will take place on December 9 at 6pm.
The exhibition features Shearer's indelible images of the civil rights movement, social unrest, and watershed cultural events from the 1960s-70s. Highlights include Shearer's famous funeral photographs of Dr. Martin Luther King Jr. and President John F. Kennedy, as well as his coverage of Muhammad Ali and the Attica prison uprising.
"We are honored to showcase John Shearer's socially impactful work," said Elise Graham cofounder of The Capa Space. "His empathetic eye and brave photography captured the soul of a pivotal era in America."
John Shearer (1947-2022) was one of the few African American photographers on staff at major publications like Look and Life magazines in the 1960s-70s. His race gave him unique access to cover civil rights protests and leaders. Shearer's compassionate portraiture revealed the humanity in historic figures and everyday people during a time of transformation.
The Capa Space is located at 2467 Quaker Church Road in Yorktown, NY. "American Moments:John Shearer" will be on view from December 9, 2023 through April 7, 2024. Gallery hours are Thurs., Fri., Sat. and Sun. 1pm-5pm. Admission is free. An opening reception will take place on December 9th from 6-8pm.
For more on The Capa Space and "American Moments:John Shearer," visit thecapaspace.org or email thecapaspace@gmail.com.