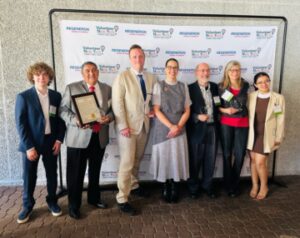 Hundreds of guests joined Volunteer New York! to honor seven Westchester volunteers and one Legacy Award honoree during the 43rd annual Volunteer Spirit Awards breakfast benefit, presented by Regeneron, which took place at the Westchester Marriot on May 5, 2023.
This annual celebration is the largest volunteer recognition event in the Lower Hudson Valley. Each spring Volunteer New York! recognizes a distinguished group of volunteers who have done extraordinary work in our region. Volunteers are nominated in six categories, and an independent panel of judges selects one person or group for each category.
"Being able to spotlight these changemakers today was an honor and a reminder that volunteer service is essential in making our communities more resilient and equitable," said Jeanette Gisbert, Executive Director of Volunteer New York!. "We are extremely grateful to all of the event sponsors, our corporate champions, and the Westchester community members who came out to support these amazing volunteers."
The 2023 Volunteer Spirit Award winners are as follows:
Education & Literacy Award presented by The Gallin Family – Honors volunteers dedicated to education and literacy: Ariana Barrios of New Rochelle
For volunteer action with Song Catchers
Going Green Award presented by Con Edison – Honors volunteers who work to protect and beautify our environment: Dean Gaella & Rachel Tieger of Tarrytown
For volunteer action with Tarrytown Environmental Advisory Council
Quality of Life Award presented by PCSB Community Foundation and PCSB Bank – Honors volunteers who work to improve the quality of life in numerous facets of our community: Carolyn Van Ness of Ossining
For volunteer action with Hospice of Westchester
Resiliency Award presented by WMCHealth – Honors volunteers whose service for a cause or nonprofit has helped them overcome adversity or personal challenges: James Burton of Hopewell Junction
For volunteer action with The Ronald McDonald House of Greater Hudson Valley
Social Advocacy Award presented by Regeneron – Honors volunteers who advocate for and support the righting of injustice in our community: Carlos Carpio of Ossining
For volunteer action with Ossining Padres Hispanos
Youth Leadership Award presented by PKF O'Connor Davies, LLP – Honors volunteers (age 21 years or under): Sam Nadol of Ossining
For volunteer action with Reboot PC
Legacy Award presented by Volunteer New York! Board of Directors – Honors a business or civic leader who has made a personal and professional commitment to volunteerism: Joseph D. Roberto of Hopewell Junction
"As a company committed to volunteerism and creating positive social change, Regeneron is proud to be the Presenting and Social Advocacy Award Sponsor for the 2023 Volunteer Spirit Awards," said Christina Chan, Senior Vice President, Corporate Communications and Citizenship at Regeneron. "We are truly inspired by these remarkable volunteers who tirelessly dedicate their time and energy to advancing equity across Westchester."
To learn about ways to get involved in your community and to be matched with local volunteer opportunities, visit volunteernewyork.org.