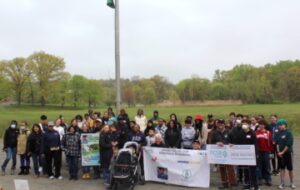 Sixteen members of Senator Andrea Stewart-Cousins' Youth Advisory Council (YAC) joined her as she sponsored an Earth Week cleanup on Saturday, April 22 at Tibbetts Brook Park in Yonkers. For the third straight year, the Senator sponsored Westchester County's Pitch in for Parks program leading a YAC Pitch in team at Tibbetts.
The high school students who participated come from Yonkers, Scarsdale, Hastings-on-Hudson, Tarrytown, Irvington, Valhalla, Pleasantville and New Rochelle. From Yonkers, Helena Cruz, Tyrone D. Woodson Jr., Kyle Skipper-Pugh, Jillian Maher, and Sakina Star; from Scarsdale, Maison Smith; from Hastings, Riya Chandra, Sophie Berman; from Tarrytown, Aidan Balkin and Lillian McCarthy; Mohun Desai and Jared Rodnick of Irvington; Logan Schwan of Valhalla; Kolby Moody of Pleasantville, and from New Rochelle, Christian Krause and Annie Gombiner.
Students volunteering with the Westchester Youth Alliance worked alongside the Senator and her YAC. Also participating on the Senator's team were members of the YWCA Yonkers Pearl Program, youth members of the NAACP Yonkers Chapter, and students from Saunders Trades and Technical High School.
"It was such fun pitching in with these students who care so much for the environment," said Senator Stewart-Cousins. "We are cleaning up the park, but it's also a learning experience. The YACs talked about invasive species and other plants while working together and making new friends. I commend the Westchester Parks Foundation and its Executive Director, Joseph Stout, for hosting Pitch in for Parks. It's a wonderful way to get the community involved in preserving our parks' natural beauty."
Kyle Skipper-Pugh, a Junior at Yonkers Montessori Academy said, "I was excited to have the opportunity to work with Senator Stewart-Cousins and my fellow Youth Advisory Council members to make a positive impact on our local environment which is consistent with my commitment to Environmental and Climate Justice. As young people, we understand that we have a responsibility to protect our planet, and this Earth Day cleanup was a great way to demonstrate our pledge to doing so."
Joseph Stout, Executive Director of the Westchester Parks Foundation said, "Westchester Parks Foundation has hosted Pitch in for Parks since 2013, the largest volunteer event of the year in Westchester County, in celebration of Earth week. Each year the event reaches over 10 County Parks and 500 volunteers to prepare the parks for spring. For the last three years Senator Stewart-Cousins has supported the event and brought over 50 youth volunteers who work alongside her and her staff to enhance Tibbetts Brook Park in Yonkers. The Senator is a champion for the environment, and we appreciate her support of this program every year."
Nisa Geller, Executive Director of Westchester Youth Alliance said, "Westchester Youth Alliance teens were excited to join Pitch in for Parks and connect with Senator Stewart-Cousins and her Youth Advisory Council in celebration of Earth Day. WYA's mission of building community and understanding through leadership and service was empowered by the Senator's commitment to the future of our youth, our ecosystems, and our community. We are proud to work alongside the Senator and her YAC on this important initiative."