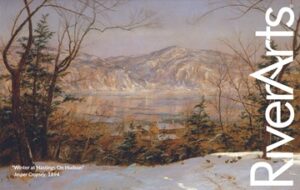 RiverArts announces the first of three concerts in their Chamber Music Series. This first concert is the organization's annual Chamber Music Benefit, hosted by the Newington-Cropsey Foundation on Sunday, November 19 at 1:00pm. Included in the ticket price is a cocktail reception following the concert.  
Date – Sunday, November 19 
Venue – Newington Cropsey Foundation; 49 Washington Ave, Hastings-On-Hudson, NY 
Time – 1:00pm 
Tickets – $100; 50% of the cost of tickets is a tax-deductible donation to RiverArts; tickets can be purchased at https://riverarts.org/event/chambermusicbenefit/  
The concert will feature music by romantic composers Johannes Brahms and Franz Schubert. Pieces include Songs for Voice and Piano Op 70, Cello Sonata in e minor Op. 38, Der Hirt auf dem Felsen D965, and Clarinet Trio in A Minor, Op. 114. The run time will be 90 minutes with a 10-minute intermission. 
Immediately following the concert, the Newington-Cropsey Foundation will host a cocktail reception with hors d'oeuvres and wine.  
Tickets start at $100, which includes the cocktail reception following the concert. 50% of the ticket cost is a tax-deductible donation to support RiverArts' efforts to continue to provide world-class, affordable chamber music to Rivertown audiences.  
Doug Coe, RiverArts' Chamber Music Series Producer, shares, "Brahms' clarinet trio is, for me, a desert island piece. I've been listening to it all my life, and it continues to illuminate my own life in ever remarkable ways. I am so excited to be able to hear this piece, along with the rest of this program, played in the totally amazing setting of the upper gallery of the Cropsey Foundation." 
Chamber Music Series Artistic Director, Peter Seidenberg, says, "Brahms' deeply personal music resonates with us all because of its breadth of emotion and insight. He not only captures the drama and depth of feeling of the romantic era but also gives light to his most inner thoughts." 
About the Artists 
For additional information, visit the links to each artists' website.