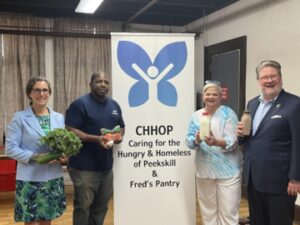 New York State Senator Pete Harckham and Assemblymember Dana Levenberg announced today that they were able to secure $50,000 of funding in the FY2024 State Budget for Fred's Pantry, a food pantry administered by the nonprofit Caring for the Hungry and Homeless of Peekskill (CHHOP) and located at St. Peter's Episcopal Church.
"So many of our neighbors are still facing food insecurity, which is why we cannot let up our fight against hunger in our communities," said Harckham. "I am grateful to the leadership and staff at CHHOP for all of the work they do to keep Fred's Pantry fully stocked and ready to serve residents who are facing food insecurity. Fred's Pantry is truly emblematic of the generosity and selflessness in our communities and the willingness of residents to volunteer hours of their time to help others."
"Everyone deserves fresh, nutritious meals," said Levenberg. "Fred's Pantry is an innovative program delivering healthy food from local farms to our neediest residents. I applaud their work and was proud to help support it with funding from the state budget."
Fred's Pantry helps to feed some of the neediest members of the Peekskill community, including many seniors. The food pantry has been in operation since the Great Recession in 2009, when a need for healthy and nutritious food among food insecure residents in the community became acute. Today, food is distributed from 4-6 p.m. on Wednesdays and 9-11 a.m. on Saturdays. The pantry currently serves approximately 1,300 people each week; a total of 89,908 people were served in 2022, according to CHHOP.
In August 2022, Harckham held his 13th food drive in the 40th Senate District since March 2020 and his second drive in Peekskill, both of which benefited Fred's Pantry. The August 2022 drive, at Peekskill High School, collected more than 3,500 pounds of food and over $200 in cash donations.
Cynthia Knox, chief executive officer of CHHOP, said, "We so appreciate the support provided by Senator Harckham and Assemblymember Levenberg for Fred's Pantry. They focus on ensuring that the communities they represent have healthy food, clean water and the necessary assistance to thrive. We could not do what we do without them."