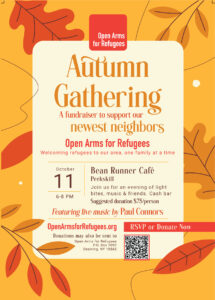 Open Arms for Refugees, whose tagline is "Welcoming refugees to our area, one family at a time," will hold "a fundraiser to support our newest neighbors" on Oct. 11 from 6 pm-8 pm at Bean Runner Cafe in Peekskill.
On the menu are light bites, cash bar and live music by Paul Connors. Suggested donation is $75. Donations at any time also can be mailed to Open Arms for Refugees, P.O. Box 2092, Ossining, NY 10562
Open Arms for Refugees was founded in October 2021 as a refugee resettlement sponsorship organization. To date, "we've resettled three individuals from Ukraine and Colombia and eight families from Afghanistan," says Open Arms volunteer Cathy Dreilinger of Ossining.