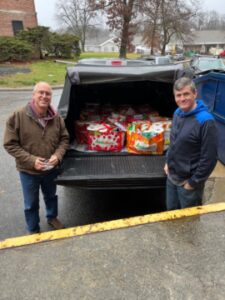 Holy Name of Mary Knights of Columbus Council 4730 joined with Montrose VA to raise $5,000 in support of Veterans, with funds disbursed to the following programs. 
Women Veterans New Mothers —

28 baskets of items essential for new mothers and their babies.




 

Veterans New Home Necessities

— 28 baskets of necessities to support Veterans moving into their own home or apartment.




 

Support for Quarantine Patients – 

iPads and high-quality arts supplies provided to quarantined patients to help alleviate loneliness and boredom during their period of isolation while recovering from RSV, flu or Covid.