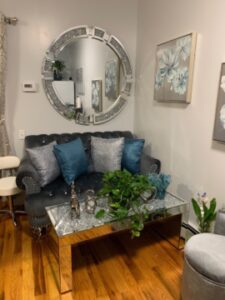 Caring for the Hungry and Homeless of Peekskill (CHHOP) has been awarded a one-year $50,000 grant from the Westchester Community Foundation for its Rehousing in Supportive Environments (RISE) program in collaboration with My Sisters' Place and Lifting Up Westchester. This one-year grant will support CHHOP and its RISE program partners to provide comprehensive services to survivors of domestic violence enrolled in transitional housing as they rebuild their lives. This grant was made possible in part by the Westchester Community Foundation, a division of The New York Community Trust.
"We are thankful to have been awarded this grant from the Westchester Community Foundation," said Cynthia Knox, CHHOP CEO. "Domestic violence can affect anyone, so it is essential to have services for survivors and their families who are most vulnerable. This grant will enable us and our partners to help domestic violence survivors and their families move forward from their trauma as they rebuild their lives and start anew."
According to a report prepared by the Westchester Women's Agenda, there has been a recent upturn in the reported number of domestic violence victims, with a total of 1,814 victims reported in Westchester County for 2021. In addition, local data from Hope's Door, My Sisters' Place, and the Pace Women's Justice Center have reported that calls to their crisis lines increased 39% over pre-pandemic levels. These figures highlight why support and services are needed for domestic violence survivors to help them move forward. The $50,000 grant from the Westchester Community Foundation will allow CHHOP and its partners to provide housing and supportive services to households affected by domestic violence, secure "rapid rehousing" for new households coming into the RISE program, offer ongoing trauma-informed counseling and legal services, connect survivors with appropriate training for work skills and job readiness, and assist them with job searches.