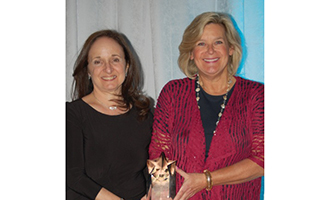 The Network for Teaching Entrepreneurship (NFTE) announced today that Food Bank for Westchester's Executive Director Ellen Lynch will receive the 2014 Lowell B. Mason Annual Award for Exemplary Volunteer Service at a Global Gala in Washington D.C. on April 24. The award is the highest recognition given to a volunteer who has made a significant impact in the community throughout his or her involvements with NFTE by developing an innovative way to open doors for its students.
At right, From L to R: Diane Rosenthal, executive director of NFTE Fairchester and Ellen Lynch, executive director of Food Bank for Westchester.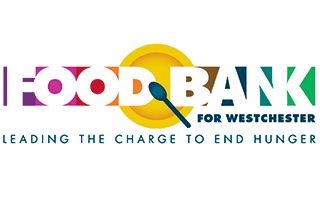 "We are all thrilled that Ellen is receiving this honor.  She is dedicated to making a difference and cares deeply about the young people NFTE educates, many who come from challenging circumstances," said Diane Rosenthal, Executive Director, Network for Teaching Entrepreneurship. "Ellen captures the true spirit of NFTE volunteers who help students establish real-life goals, gain the knowledge that can break the intergenerational cycle of poverty and learn the skills most sought after by today's employers."
Lynch has served the NFTE Fairchester chapter, which represents Westchester and Fairfield Counties, in all capacities for the last 13 years. She has dedicated her time as a business plan coach, classroom competition judge, mentor to individual students, and has assisted students in preparing for the county-wide and national competitions.
"It has been a pleasure to be able to coach NFTE students in every school in Yonkers as well as throughout Fairfield County.  I love working with them, encouraging them in their efforts, ensuring that they know people care about them, and helping them succeed in the NFTE program and beyond," said Lynch. "It is an honor to be recognized by such a profound organization."
In 2005 Lynch joined the NFTE Board of Directors, and as vice-chair, chair and head of the program committee, Lynch has been instrumental in the growth and development of the NFTE Fairchester Chapter, ensuring that standards of excellence are maintained and always on the lookout for partnership opportunities to enrich and strengthen the work of NFTE. She participated as a member of the Search Committee for the new executive director and is currently part of the strategic planning team that will help set the direction for NFTE FC over the next 3 to 5 years.
The program committee has expanded to include teacher representatives from Westchester and Fairfield Counties to ensure that the committee is responsive to teacher and student needs and represents the ideas of those most closely aligned with the program.
The Food Bank for Westchester is the backbone of the food distribution system in Westchester, supporting over 265 front-line hunger relief programs throughout the county.  The Food Bank provides 95 percent of all the food given to hungry families, children and seniors as cooked meals or groceries to take home. Last year, the Food Bank distributed more than 7.4 million pounds of food and 6.2 million meals to those hungry or at risk of hunger.
The Food Bank for Westchester is located at 200 Clearbrook Rd., Elmsford, NY 10523. Call (914) 923-1100 or visit www.foodbankforwestchester.org
About NFTE
Too many young people today drop out of school and struggle to break the cycle of poverty. Since 1987, the Network for Teaching Entrepreneurship (NFTE) has been inspiring young people to pursue educational opportunities, start their own businesses, and succeed in life. By providing entrepreneurship education programs relevant to the real world, NFTE empowers students to own their educations in and out of the classroom and to find their own path to success. Hundreds of thousands of students have discovered opportunity all around them through entrepreneurship via thousands of certified educators worldwide. NFTE supports active programs in 19 U.S. locations and 13 countries around the world. Entrepreneurs are a powerful driver of economic growth and NFTE sows the seeds of innovation in students worldwide. To learn more visit www.nfte.com, like us on Facebook at Facebook.com/NFTE or follow us on Twitter at @NFTE.
About the Food Bank for Westchester
Incorporated in 1988, the Food Bank for Westchester is one of eight food banks in New York State. It acquires warehouses and distributes more than 7 million pounds of food annually to 265 frontline hunger-relief programs, including food pantries, soup kitchens, shelters, day care and residential programs serving the 200,000 Westchester residents who are hungry or at risk of being hungry. Based in Elmsford, NY, the Food Bank is located in a 36,000sf warehouse and is home to Westchester's largest refrigerator and freezer. For more information, visit www.foodbankforwestchester.org. Like us on Facebook: Food Bank for Westchester