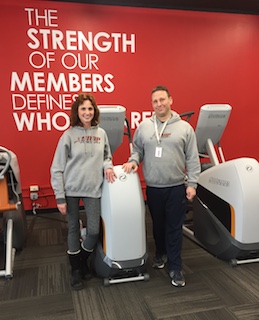 The attention to detail, the willingness to change, and the commitment to providing services that benefit members the most are a few of the reasons why Snap Fitness 24-7 in Tarrytown has made people fitter and happier at their relatively new 69 North Broadway location. Owners Eric Thomas and Melissa Hartnett are not new, however, to the world of health through exercise.
Photo: Owners Melissa Hartness and Eric Thomas at Tarrytown Snap Fitness 24-7.
Eric bought a struggling Snap Fitness in Mahwah, New Jersey five years ago. At the time Melissa was a personal trainer at the location. "I grew up in Bergen County and I saw an opportunity at the Mahwah location," he said. "I saw how Eric turned the business around and made the members much happier in a short period of time," Melissa added. She has been certified by the National Academy of Sports Medicine (NASM) for the past 10 years.
"What I like about Snap Fitness is that it takes the "bells and whistles" out of exercising and offers the basics that every member can take advantage of. Some clubs offer swimming pools, juice bars, racquet ball courts and more. Not all members use these extras, however, all members wind up paying for them," Eric said. What Snap Fitness in Tarrytown does offer are private bathrooms and changing rooms with showers, the ability for members to do a workout at any time of the day or night on any one of the 365 days each year provides. There is literally no waiting time for a machine due to the flexibility of hours available. Some members come into Snap Fitness at 5am for a workout before catching an early morning train to New York City. Others choose to exercise at midnight after working a long shift and before returning home. Their plastic membership cards open the door at whatever hours suit them. There is also private parking behind the building, which makes members comfortable at any hour.
With regards to equipment, Snap Fitness has state-of-the-art "Octane" ellipticals. For functional training they have "Connexus by Matrix," which, according to Eric, is the direction fitness is headed. It is a multi-purpose piece of training equipment that allows up to 1,000 different exercises for its users. There's also a boxing ring and twelve different punching bags. Treadmills line the 7500 square-foot facility, and a highly dedicated  staff  is present to help members with the correct use of any one of the varied exercise machines. "Our staff is handpicked by me and each have a passion for fitness and serving people. We make sure that every member gets the best service possible. We have trainers, managers, front desk personnel and cleaning people all here to serve the membership. It's who we are," Eric noted.
Snap Fitness is professionally cleaned 365 days a year, and in the summer months, air conditioning is in great abundance. Should exercise equipment malfunction, it is repaired the same day or the next day without fail. "We want our members to know how important it is for us to serve them and that their input is very important to us. I want this gym run as if every member is an owner," he added.
For more information on membership or about Snap Fitness visit snapfitness.com/tarrytown or email tarrytown@snapfitness.com. Telephone (914) 499-3999.