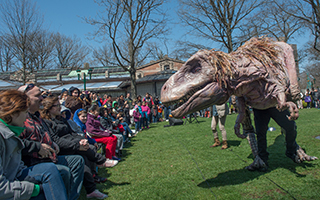 Erth's Dinosaur Zoo is performing at the Wildlife Conservation Society's Bronx Zoo Wednesday, April 16 through Sunday, April 20. Show times are 11:30am, 1:30 and 3:30pm daily on Astor Court. Spectators will take a tour through the prehistoric world and meet an eye-popping array of lifelike creatures in a fun and interactive setting.
Erth's Dinosaur Zoo's skilled puppeteers use performance skills, sophisticated design and electronics to bring the larger-than-life prehistoric giants to life on stage, such as a Megalodon, for instance.
In keeping with the dinosaur theme, Dinosaur Safari: Mysteries Revealed continues through Sunday Nov. 2 at the Bronx Zoo.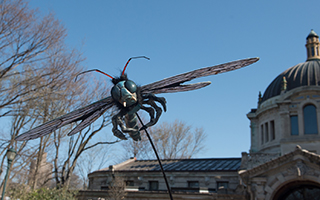 The narrated ride, powered by Chevrolet's all-new and redesigned 2015 Suburban and 2015 Tahoe, will take adventurers through a two-acre area of the zoo past more than 30 fully-animatronic dinosaurs as they move, snarl, and roar. The entire experience is designed to provide an understanding about how fossils and artifacts are meaningful clues to the mysteries of the past. Tour guides engage with zoo-goers and help them discover how fossils provide insight into what life may have looked like in prehistoric times.
At the end of the experience, there is a field site that includes a fossil dig for children; a Tyrannosaurus rex photo-op; a paleontologist's tent that includes a fossil museum; and an interactive robotic dinosaur that illustrates how the animatronics work.
Visit www.bronxzoo.com/dino for schedules and event details.
Chevrolet's all-new, redesigned 2015 Suburban and 2015 Tahoe are the Official Vehicles of Dinosaur Safari at WCS's Bronx Zoo.
The Wildlife Conservation Society's Bronx Zoo is open daily from 10:00 a.m. to 5:00 p.m. weekdays, 5:30 p.m. weekends from April to October; 10:00 a.m. to 4:30 p.m November to March. Adult admission is $16.95, children (3-12 years old) $12.95, children under 3 are free, seniors (65+) are $14.95. Parking is $15 for cars and $18 for buses. The Bronx Zoo is conveniently located off the Bronx River Parkway at Exit 6; by train via the #2 or #5 or by bus via the #9, #12, #19, #22, MetroNorth, or BxM11 Express Bus service (from Manhattan that stops just outside the gate.) To plan your trip, visit bronxzoo.com or call 718-367-1010.
Wildlife Conservation Society (WCS)
MISSION: WCS saves wildlife and wild places worldwide through science, conservation action, education, and inspiring people to value nature. VISION: WCS envisions a world where wildlife thrives in healthy lands and seas, valued by societies that embrace and benefit from the diversity and integrity of life on earth. To achieve our mission, WCS, based at the Bronx Zoo, harnesses the power of its Global Conservation Program in more than 60 nations and in all the world's oceans and its five wildlife parks in New York City,  visited by 4 million people annually. WCS combines its expertise in the field, zoos, and aquarium to achieve its conservation mission. Visit: www.wcs.org; http://www.facebook.com/TheWCS; http://www.youtube.com/user/WCSMedia Follow: @thewcs.