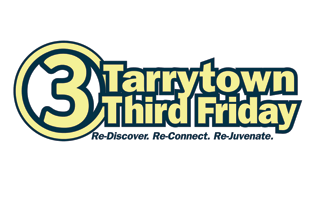 Tarrytown Third Friday Back to School events September 21st 5pm-9pm
There's music everywhere, a bouncy castle on South Washington Street (thank you Teachers' Association), great art at Tappan Z Gallery and Watercooler (plus a pop up shop).  Look out for Historic Hudson Valley Ghosts and Ghouls scaring up some pre-Halloween fun.  Stop by the Methodist Church Hall (South Washington Street) for a new indoor craft and performance cafe!  Did we mention the tennis demonstration? (6PM South Washington)

You can get fit with Beach Body; get great skincare from Arbonne; citykinder will teach your kids German; Bows by Kaycee will make your hair look good; Creations by Carla will adorn you; Local Girls Made Good will impress you with something crafty; Asa's Cotton Candy will fill you full of sweet fluffy goodness; My Initials Inc will make you look stylish; Imagine Face Painting will paint your face; and so much more…
MUSIC
5:30PM – 6:00PM Laura Doherty Music
Laura Doherty acoustically rocks your kid's world with breezy folk-pop tunes from her new Parent's Choice award-winning CD, Shining Like a Star,
6:00PM – 8:00PM Crazy Mary
Bringing their unique sound and plenty of crazy energy to South Washington Street.
8:00PM Curtis Becraft
Solo and in concert at Coffee Labs Roasters!
9:00PM  Juke Joint
Come on out and see them, indoors, with no chance of rain.
ART
5:00PM – 9:00PM – Meet the Artist Paula Estey at Tappan Z Gallery
Estey poignantly reflects on the human condition through her use of photographs and text in evocative multi-media compositions.
5:00PM – 9:00PM – Art Reception for Brooklyn based painters Jane Talcott and John Lloyd at Watercooler.
View the art, stay for the pop up shop, featuring the work of local crafters and artisans.
KIDS
5:30-7:30PM TUFSD Teachers' Association Inflatable Obstacle Course
Another reason to love a teacher!
6:00-8:00PM Face Painting by Imagine Face Painting, sponsored by Rivertown Playgroup.
5:30PM Kids Craft – on South Washington Street
Main Street Sweets
Main street sweets wants to celebrate back to school with offering a FREE topping with purchase!  While enjoying your ice cream, DECORATE A PENCIL CASE FOR SCHOOL