This story actually begins in Essay, France at the Château de Villiers, June of 2016. Driving up to the Château that had been a former Abbey centuries ago, replete with a moat, was a time warp, and how the French countryside alerted and satisfied all one's senses for what was to follow.
Photo: Ferrari 812 Superfast
My fluent French-speaking travel mate and motorsport aficionado son had chosen the Château where only the French language would be spoken, garden fresh and locally harvested meals would be served and prepared, and where a watercolor landscape was only a forty-five-minute ride away from Le Mans and its world-renowned 24-hour road race.  Of note is that we drove through more rotaries, aka roundabouts, aka "ronds-points" enroute to the race track than exist on any backroad across the 3,000-mile cross-country stretch of the United States. With that many turns we arrived at Le Mans ready for racing. So, also, were 60 entries that included Prototypes with hybrid systems of electric and fuel-driven engines from Audi, Porsche and Toyota – cars that could easily be edited into a Star Wars movie with their exotic looks, sounds and incredible speeds.  In the GT class, Ford launched a field of four new V6 bi-turbo cars in an effort to celebrate the 50th Anniversary of its first win at Le Mans in 1966, in case you need to repair one of this vehicles, check out in stock turbochargers. Not only did Ford win in '66, but it placed drivers on all three podiums from 1st to 3rd. Fifty years later and 24 hours of racing found the #68 Ford GT and Chip Ganassi Racing in 1st place, once again, at Le Mans. There wasn't enough champagne (no small feat in France) to be sprayed about on that day.
Other entries with familiar names of Ferrari, Corvette, and Aston Martin, to name a few, made for easy recognition and a familiarity with cars seen on roads both in Europe and the USA.  Unlike their showroom counterparts, these race cars were extreme in their mechanical makeup and internal workings. They needed to be just that for a 24-hour endurance race.
Le Mans started at 3pm on Saturday June 18th and ended at 3pm on Sunday, June 19th. With the exception of three engine-sound-filled hours of sleep starting at 3am, my son and I were awake and travelled completely around the Le Mans circuit which took us into towns, pastures and hillsides adjacent to the racing roadways.  Headlights came out of total darkness followed by exhaust notes, then race cars with LED side panels lit up indicating where they were placed in the mix numerically.  Race cars entered turns at 90 mph then howled down the track headed for the start/finish line and another 8.45 mile lap. Ray Charles used to sing "the night time is the right time" and that line applies to auto racing as well as "being with the one you love." The timelessness of endurance racing is otherworldly, and the 24-hour kind can only be found at Le Mans, Spa in Belgium, Nurburgring in Germany and Daytona, Florida stateside.
Fast forward to January 27-28 of this year, and the call to endurance racing got the better of my normality once again.
Fortunately, I received a Press Pass to the Rolex 24 at Daytona and was given a second pass to Ferrari's Hospitality Suite. The Rolex 24 at Daytona International Speedway is a 3.56-mile 12-turn road course that includes high-banked oval turns and a twisty infield course. The banking on some spots is a visually striking 31 degrees, with or without race cars on it. I thanked IMSA (International Motor Sports Association) and Ferrari North America the moment I arrived for what I knew would be and extraordinary 24 hours of racing and all the preparation leading up to it.  A series of races took place on and before Saturday's 56th Rolex 24. Two of them were Ferrari Challenge series with one race on Friday and the other on Saturday.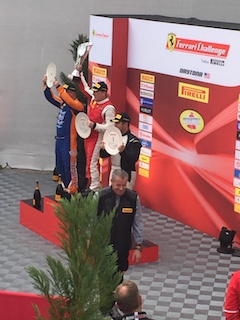 For race fans not familiar with the Ferrari Challenge one basic statement must be made.  You will see and appreciate more Ferraris at one time than almost anyone will during their lifetime. That alone is worth the price of admission. The 458 and 488 Challenge cars are divided by their driver's ability into 4 classes – Trofeo Pirelli, Trofeo Pirelli AM, Coppa Shell and the newly-created Coppa Shell AM.  After two thirty minute races on both Friday and Saturday at Daytona, trophies were given to the top three finishers in each class. Of note is that actor Michael Fassbender took to the top of the podium with a first-place win in Coppa Shell on Friday.Ferrari's Hospitality Suite deserves as much press as do the cars that sit on display in its courtyard. The team of corporate professionals atFerrari North America in Englewood, NJ are responsible for keeping guests very well-fed and making sure their experience before, during and after the racing is what could easily be termed "Perfetto" in Italian.  The men and women of Ferrari North America deserve a podium of their own but could hardly all fit on its top spot. To them this writer says, "Mille Grazie."
At 3am Sunday morning on January 28th this writer sat in Ferrari's Hospitality Suite with three other conscious race fans.  My rationale for sipping a double espresso was that on any other given day I could sleep. Why would I choose to at a once-a-year event and, possibly the only time I would ever get to experience it in such a mesmerizing way. I was free to wander around the venue, and did so in a golf cart full of video gear with my son behind the wheel. We stopped at a high bank while he filmed cars two and sometimes three abreast flashing by in a "New York minute."  We took an elevator up 6 floors and stood on metal scaffolding at the highest point of the raceway, looking out into the darkness and the entire road circuit below.  We were suspended in time.
When the sun rose we were way ahead of it. The field of cars had slimmed down, some with mechanical problems and crashes causing retirement for some drivers and cars alike. Nevertheless, the racing was as competitive as when the first flag had dropped. It was even more so with teams realizing they had to maintain their first, second or third place position, while other cars and drivers tried to displace them from a podium finish. The stakes were very high for the competitive cars and any time off the track with fuel, tire and driver changes had to be orchestrated with finite precision. A race could be lost with a poorly-executed pit stop.
At 2:40pm the checkered flag brought the exhaust notes to an end as highwayspeeds prevailed, with winners taking a victory lap before heading into the Fan Zone and celebrating. Chip Ganassi Racing  finished first and second in the GTLM class with Ford GT cars and a Corvette right behind them placed third. First place finishers in all classes received Rolex Daytona watches – a prized possession not unlike a Super Bowl ring. First through third place also received trophies and plenty of champagne to spray around.  Fans had been treated to a weekend of racing events, autograph sessions with their favorite drivers, a heritage exhibition of racing cars, a boardwalk experience of carnival rides and the tallest Ferris wheel on the East Coast.
As for my son and me, we had endured an endurance race, the second in two years. He, as a professional videographer, and me, as an aspiring scribe.  More importantly, we got to be together around race cars. With our dispositions, that about tops the list.  I'll go one step further –  it's at the top of the podium.
Forget spraying champagne, a custom first started by the late, very great driver, constructor and team owner Dan Gurney after he won the 24 hours at Le Mans in 1967 – I went looking for two flutes to pour it into.