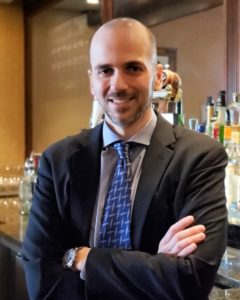 Frank Troiano, an award-winning, senior-level executive chef, has been named Director of Food and Beverage for the DoubleTree by Hilton Tarrytown.
"Frank brings a wealth of knowledge and expertise to our culinary team gained during his distinguished career at some of the region's leading hospitality and catering venues," said Kevin Johnson, General Manager, adding: "We are also very pleased to welcome him back in this high-profile position where he formerly served as Banquet Chef and Executive Chef."
Under his leadership, Troiano will provide exciting, cutting-edge food and beverage options for corporate meetings, social events including weddings, birthdays, retirement parties, confirmations Bar and Bat Mitzvahs, kosher events, among others.
In addition, the classically trained Troiano will lend his creative culinary talents to enhancing the menu offerings at the hotel's Bistro Z Restaurant & Lounge, a favorite dining destination for both hotel guests and diners from the surrounding community and Westchester region.
Most recently, Troiano served as Executive Sous Chef for four years at the Sheraton Stamford Hotel, Starwood's corporate flagship hotel and a showcase for the company through VIP corporate functions and promotions. His culinary contributions contributed to the hotel earning the coveted #1 ranking for Guest Experience out of 197 North American properties.
His career began in earnest in 2004 after completing a culinary internship with the Tarrytown House Conference Center where he ascended the ranks into leadership within the classic French kitchen brigade system and earning a culinary degree in Restaurant Management from SUNY Westchester.
Starting as a line cook for the White Beeches Gold & Country Club, a prestigious private club located in Haworth, New Jersey, he was promoted to Sous Chef.
That experience led to his being hired as a Sous Chef at Abigail Kirsch Culinary Productions, one of the region's preeminent, high-end caterers. He spent the next four years catering corporate and social events at the company's exclusive New York City and Westchester venues at Abigail Kirsch at Tappan Hill Mansion Tarrytown and Abigail Kirsch at the New York Botanical Garden, as well as at offsite high- profile events.
In 2008, he joined the DoubleTree by Hilton Tarrytown as Banquet Chef followed by his promotion in 2012 as Executive Chef. In addition to building on his culinary talents, Troiano developed a strong managerial foundation with responsibility for recruiting, training and mentoring staff. Among them was Karina de la Rosa, who subsequently became Executive Chef.
During his tenure, Troiano and his teams captured several prestigious awards. The DoubleTree by Hilton Tarrytown is a nine-time winner of The Knot ("Best of Weddings") and Bistro Z Restaurant & Lounge has captured the Diner's Award four times.
"I am very excited to rejoin this exceptional and creative cuisine team to help take the DoubleTree by Hilton Tarrytown to the next level as the premiere destination for events," said Troiano.
Troiano's plans are to focus on "stunning presentations, exciting and seasonal menus that will utilize and showcase Hudson Valley ingredients." The local theme is also reflected in his goal of expanding the Bistro Z Restaurant & Lounge's selection of fine craft beers on tap.
In Troiano's view, the mission of managing large-scale food and beverage operations on a daily basis comes down to consistently preparing and delivering "satisfying, scratch-cooked meals that exceed the expectations of our customers," adding: "That's the ingredient for our success."