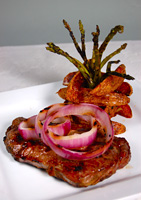 Ask any new parent—the first year of life is both exciting and nerve racking.  In nature, the first year of life is usually a make or break year.  Survival in harsh conditions is a significant, odds-defying victory.
This is also true for small businesses, especially restaurants.  Many restaurants, for a variety of reasons, do not see their first anniversary, or are still struggling to define themselves, and stand out from the competition.
This is not the case for one establishment in particular, Rainwater Grill, a dining, lounge and entertainment spot in Hastings.  The restaurant enjoyed a solid first year, despite the economy and the odds, has a clear sense of itself, and continues to build on its high level of distinctness and appeal.
"We embrace who we are and where we're from," commented Tony Fortunate, co-Managing partner.  "People want to come to a nice looking place for lunch, dinner or drinks, but they want the environment to be friendly and the value and customer service to be at very high levels.  Our customers love our 'elevated but affordable' approach, as well as our All-American menu."
"We give people what they want, and they show their appreciation through their loyalty to us," added Ken Lauro, co-Managing Partner.  "People like an upscale dining and lounge environment, but at the same time, they will not pay crazy prices or put up with a less-than- satisfying food or service experience.   We show people a great time, and they love us for it." 
The two-room layout of the dining and bar areas allows it to give off a slightly different vibe, depending on the day of the week and the time of day.  During lunch and dinner hours, it's a delicious dining and fun snack and happy hour place.  There are 10 items on the bar menu that are $10 or under.  There are also beer, wine and well-drink specials during "Pouring Hours," 4:00-6:00 pm, Monday-Saturday.
In the evenings on Thursday, Friday and Saturday, Rainwater Grill takes on more of a lounge and supper club feel.  More often than not, live music is being played in either the bar area or the main dining room.  The music ranges from jazz to acoustic to classic rock to favorite hits, depending on the night.  "It's hard to find a good night spot for grown-ups in Westchester," Mr. Lauro commented.  "We give people a place to come and really enjoy themselves."
The restaurant is also updating their menu.  New entrees include a 12 oz. NY Strip steak, served with steak fries and grilled asparagus; a 6 oz. Petite Filet with Grilled Shrimp (their take on surf and turf), served with grilled vegetables and mashed potatoes; New Zealand lamp chops, served with rosemary garlic fries and a grilled Swordfish Steak, topped with a Cabernet shallot butter sauce and roasted red peppers, and served with rice pilaf and sautéed spinach.  All dishes can be prepared according to dietary requirements or personal preferences.
The Rainwater Grill is located at 19 Main Street in Hastings on Hudson, New York. Telephone (914) 478-1147 or online at www.rainwatergrill.com