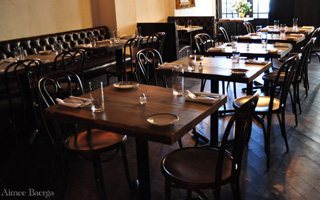 The Rivertowns has become a destination haven for new restaurants, and the most recent addition of Harper's in Dobbs Ferry contributes to the increasing array of unique eateries located along Cedar Street down through Main Street. Open only since December, Harper's has already met with rave reviews.
Owners, Chef Chris Vergara and General Manager Justin Montgomery, liked "the small town vibe of the Rivertowns" and felt they could carve out a niche for themselves here. Justin describes the restaurant's concept and cuisine to be "a contemporary interpretation of the American Tavern." Chef Chris says that right from the start they received a warm welcome from local patrons.
Housed where the former Mimosa was located, the interior has been completely revamped. The décor is fun and full of character, yet the atmosphere and ambiance is warm and inviting.  It feels like a tavern but can be conducive to an intimate dinner much like at a bistro. Each room has a distinct feel. There is an eclectic blend of materials throughout the bar and dining room– lots of dark wood, cool, teal-blue walls, leather banquettes, textured wallpaper, vintage newspaper and magazines covering the bathroom walls, and a bar made of poured concrete – but it all works together to create a smart and sophisticated local dining destination.
The menu has subtle, French overtones. Truth is, Chef Vergara's cooking tends toward simplicity and makes use of the most humble ingredients – by definition, "peasant-style" meant to be simple, fresh and delicious. "Simple yet flavorful" is the mantra here.
Schooled at the Culinary Institute of America (CIA), Vergara's culinary approach relies on the use of fresh, locally sourced ingredients and simple cooking techniques to enhance the food's natural flavors. Keeping things "local" is important. Chef Chris finds inspiration at the local farmer's markets and feels it's best to keep the distance short between the food source and the kitchen.  The dishes are executed and presented with care.  The menu will change seasonally.  The bar offers handcrafted, specialty cocktails some of which are infused with unique, freshly-made juices flavored with sage, maple and cucumber.  Wines are easy to pronounce since they are all domestic, and several beers on tap are from local craft breweries. The service is friendly and attentive, and stays just below the radar.
The restaurant gets its name from Vergara's great-aunt, Rose Harper, who was a "local establishment" in her own right. She was the first woman to serve as chair of the Direct Marketing Association (in NYC), and authored the book Mailing List Strategies: A Guide to Direct Mail Success, which was published in 1986. It became a global best seller, a virtual "bible" for the direct mail industry. Rising up through the ranks as a woman  in business in the  60s and 70s, she was quite a colorful character and had many "ditties" that she shared with her family on life, and how to live it. Many of these ditties adorn the menu. We can thank Rose for all the coupons and catalogs we receive in the mail. Ironic as it is, the light fixtures that adorn the walls in the bar area are repurposed fixtures from the original post office building located in New York City.
Looking towards spring, the patio will be open for outdoor dining. Harper's is open six days a week, except on Monday, for lunch, dinner and weekend brunch, which is served both Saturday and Sunday. On weekdays there is an early evening prix fixe dinner menu. All major credit cards are accepted.
For those who wish to venture out of the Rivertowns for other dining destinations, Chef Vergara also owns Meritage, located in Scarsdale. Small, yet a bit more formal than Harper's, the menu philosophy is the same – quality, seasonal, local ingredients using simple cooking techniques that maintain the integrity of the food and its natural flavor. Vergara notes that Meritage's entrees vary from those offered on Harper's menu due to a different clientele. However, you can expect the same delicious, flavorful outcome.
Harper's is located at 92 Main Street, Dobbs Ferry. Telephone: 914-693-2306 or visit them on the web:www.HarpersOnMain.com.