River Journal occasionally will share recipes for some of the most popular dishes at our favorite local restaurants.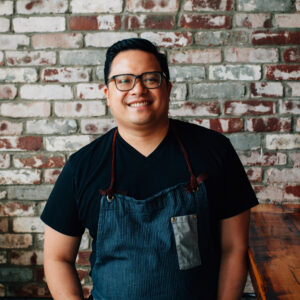 My mom's wonton soup is my favorite thing ever. 

 
Mine is not the exact recipe, but I was inspired by her plump and juicy wontons. Being in this amazing setting, I wanted to add some luxury to the palate: black truffle brings that perfect decadence to a normally humble dish.  
Enjoy!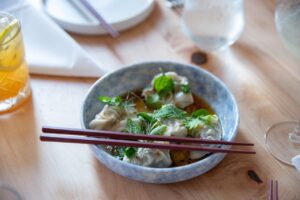 Black Truffle and Pork Wontons  
2 lbs ground pork

 

1 cup Chinese chives (chopped)  

 

2 tbsp ginger (minced) 

 
1 tbsp sugar 

 

1 tbsp salt 

 

2 tbsp soy sauce 

 

2 tbsp canned black truffles  

 

1 package of Hong Kong wonton wrappers

 
Black Truffle Soy Vinegar Dipping Sauce
¾ cup soy sauce 

 

½ cup rice wine vinegar 

 

½ cup black truffle juice (optional)

1 tbsp sugar 

 

2 tbsp chili oil

 
Directions
Mix all ingredients and chill 

 

A

dd a tablespoon of filling to each wonton wrapper 

 

A

dd water to the edges of wrapper to seal 

 

F

old wrapper into a triangle 

 

B

ring the ends together to make a "crown" at the top of the dumpling

C

ook in boiling water for 4-5 minutes

For dipping sauce, mix ingredients together in a bowl and serve with wontons