The Rainwater Grill, located at 19 Main Street, Hastings-on-Hudson, opened its doors in early  December and offers All-American cuisine in an eco-friendly setting. In spite of experiencing a small fire and a flood within the first two weeks after opening, partners and co-managers Tony Fortunate and Ken Lauro remain optimistic about what this new venture will bring in the New Year.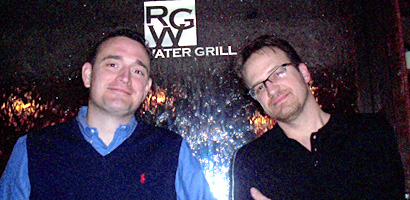 After working together and then at separate restaurant locations, they decided to open a restaurant and chose Hastings for its "Manhattan-like" setting, along with the friendly/artsy feel of the town and  its people. In speaking with Ken, who tells me he's the "bar guy" while Tony walks the "floor," Ken said they wanted to put  a twist on their menu and offer "elevated comfort foods but at a comfortable price." But don't look for Mom's meatloaf here; it's "comfort food with a definite style." Signature dishes include Lobster Grilled Cheese and Fried Mozzarella which is made from "scratch." Chef Eddis Martinez makes homemade fresh mozzarella  which is then lightly fried and topped with lemon butter and caper sauce.
While the interior features an inviting, elegant décor and the menu items are innovative with beautiful presentation, the attitude is far from pretentious. The wait staff is friendly and helpful; kids are welcome and are treated to crayons, puzzles and toys along with their own Kid's Menu. Lunch, dinner, and vegetarian dishes are on the menu along with a Hastings Tastings selection of small plate foods. Brunch is now served on Sunday with unlimited Bloody Marys and Mimosas. Tony says that he wants their customers to "feel comfortable and relaxed while dining on comfort foods, knowing the whole experience will be at a comfortable price."
The restaurant can accommodate private parties from 20 to 150 people and is available on Saturday afternoons specifically for private parties to ensure that you and your guests receive personal attention and exceptional service that will make your event memorable and special.
The Rainwater Grill is open Monday-Friday for lunch and dinner starting at noon, Saturday at 5 p.m. for dinner, Sunday at 11:30 a.m. for brunch and dinner.  Sunday Brunch will be served from 11:30 a.m. to 3 p.m.
They are located at 19 Main Street, Hastings-on-Hudson and can be reached at 914-478-1147.  www.rainwatergrill.com