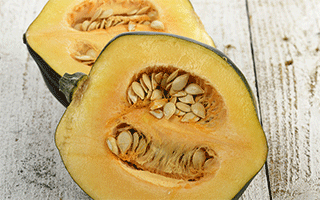 I sit here looking out my window at yet another nor'easter that is hammering the east coast.  I've lost count of the storms at this point but this winter has been very long and colder then any I can recall. Finding healthy, flavorful, weather-appropriate foods for this time of year can be a challenge, but with a little imagination there are many wonderful "comfort foods" to warm the soul while the short winter days pass en route to a  very welcome spring.
Being fortunate enough to be in the retail food and catering business I'm always trying to create new dishes that reflect the seasonal availability of foods that are unique, original and flavorful.
A hearty meal always gives me something to look forward to towards the end of a busy day. Winter is a great time to explore new flavor combinations, with an abundance of squashes, root vegetables, hardy winter greens, grains and other items available that are often overlooked other times of the year.
Yes, we can still buy all the regular fruits and vegetables, and berries that are flown in mainly from South and Central America, but most lack the flavor that can only be achieved with the proper growing conditions, soil and climate. Utilizing our imagination, infusing different ethnic spices and condiments can really add a great twist to many of the foods that we enjoy without becoming boring or repetitious.
The following is a healthy alternative to acorn squash, that can be eaten either as a side dish or a main course vegetarian entree.
Indian-spiced Roasted Acorn Squash with toasted quinoa, kale and apple
Yield: 4 portions main course, 8 side dish
Ingredients:
2 acorn squash, halved or quartered
1 cup quinoa, lightly toasted
1 ½ cups blanched curly green kale
1 ½ cups of peeled and diced
granny smith apple
1 ½ cups diced carrot, parsnip,
celery, and Spanish onion
½ cup yellow raisins
½ cup toasted pine nuts
2 tablespoons orange zest
¼ teaspoon toasted cumin
½ teaspoon curry powder
¼ cup NY maple syrup
olive oil for sautéing vegetables
salt and pepper to taste
Mix the orange zest, cumin, curry and syrup.
Split and clean the acorn squash into appropriate wedges: ½'s for entrees, ¼'s for side dish.
Rub with the syrup mixture. Bake on a sheet pan at 375 degrees for about 30 minutes, until tender.
Sauté apple in a little olive oil until caramelized. Sauté the carrot mixture in olive oil until tender.
Put the quinoa into a sauté pan and heat slowly, turning occasionally until light brown and there is a nutty aroma. Add in enough water to cover, bring up to boil and simmer until al dente but not soft (a little crunch adds texture).
Combine the kale, vegetables, apple and yellow raisins and stuff into each piece of cooked squash.
Warm in 375 degree oven for 7 minutes.Drizzle remaining syrup mixture over each. Garnish each with some pine nuts.
Enjoy…
David Loesch is the owner of Tastefully Yours Catering in Briarcliff. For more information, www.tastefullyyourscatering.com