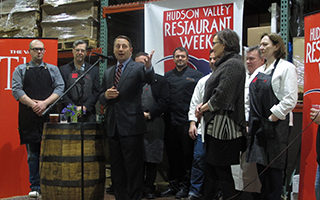 Westchester County Executive Robert P. Astorino joined Janet Crawshaw, publisher of The Valley Table magazine, and other sponsors at Captain Lawrence Brewing Company in Elmsford Tuesday to announce Hudson Valley Restaurant Week (HVRW). During HVRW, which runs from March 9 to 22, diners will have the chance to sample incredible cuisine offerings from more than 100 restaurants sourced through local produce throughout Westchester.
"Hudson Valley Restaurant Week provides a wonderful opportunity for diners to visit Westchester County's exceptional restaurants," Astorino said.  "Our chefs, who are at the forefront of the craft culinary movement, demonstrate their incredible talents using local fare during this event. 'Meet Me' in Westchester to try out excellent food at amazing prices – and invite your family and friends to come, too."
Captain Lawrence Brewing Company is an award-winning brewery and a pioneer in craft beer and small batch production. "We were pleased to kick off the Hudson Valley Restaurant Week celebration," said Scott Vaccaro, owner of Captain Lawrence Brewing Company.
HVRW celebrates top restaurants, giving diners the opportunity to enjoy exceptional dining at an approachable price point. Three-course, prix fixe dinners are $29.95 and lunches are $20.95 (plus beverage, tax and tip). Participating venues include well-known establishments such as Crabtree's Kittle House,  and X2O Xaviars on the Hudson. Joining the lineup this year are 13 new Westchester restaurants including: Trattoria 160 in Pleasantville, Birdsall House in Peekskill and Halstead Avenue Bistro in Harrison.
Noting the growth of Hudson Valley Restaurant Week, Crawshaw, the event founder, says, "Our mission is to support the Hudson Valley region, which has become an epicenter of the farm-to-table concept and is at the forefront of the craft food and beverage movement. In 2014 alone, $20 million in sales revenue was generated during Restaurant Week events—that's a major boost for local businesses, farmers, producers and purveyors."
A complete list of participating restaurants is available at www.HudsonValleyRestaurantWeek.com.  For the latest events and happenings in Westchester, log onto www.visitwestchesterny.com, like us on Facebook (facebook.com/westchestercountytourism), follow us on Twitter @westchestertour or call 1-800-833-9282. To view the Westchester County Destination Guide, please visit http://digital-editions.mediatwo.com/westchester-destination.
For local produce in Westchester County, please refer to the following list of local farmers' markets:
Bronxville Farmers Market
Stone Place at Paxton Avenue
Saturdays 8:30am-1pm
www.bronxvillefarmersmarket.com
Chappaqua Farmers Market
Chappaqua Train Station
Saturdays 8:30am-1pm
Beginning June
chappaquafarmersmarket.org
Cortlandt Farm Market
2267 Crompond Rd.
Cortlandt Manor, NY 10567
Wednesdays April-December
www.cortlandtfarmmarket.com
Croton Down to Earth Farmers Market
Lot on Municipal Place-off Rt 9 exit
Sundays, 9am-2pm
May-November
Dobbs Ferry
Corner of Cedar Street and Main
Fridays 10am-4pm
www.dobbsferryfarmersmarket.com
Hartsdale Farmers Market
Hartsdale Train Station parking lot
Saturdays 8am-3pm
914-693-2935
Hastings Farmers Market
7 Maple Avenue
(library parking lot)
Saturdays 8:30am-1:30pm
hastingsfarmersmarket.org
Irvington Farmers Market
Main Street School Parking Lot
110 Main Street
Irvington, NY 10533
http://irvingtonfarmersmarket.net/
Wednesdays 3:30-7:30pm
John Jay Homestead Farm Market
400 Jay St
Saturdays 9am-1pm
June 22 to October 13
www.johnjayhomestead.org
Katonah at Muscoot Farm
51 Route 100
10am-3pm
www.muscootfarm.org

Larchmont Down to Earth Farmers Market
Parking Lot off Chatsworth Ave-enter Myrtle Blvd
Saturdays 8:30am-1pm
May 25 to December 21
Mamaroneck Winter Farmers Market
St. Thomas Episcopal Church
168 West Boston Post Road
(at the corner of Mt. Pleasant Ave.) Mamaroneck, NY 10543
Mount Kisco Winter Farmers Market
St. Marks Church
85 East Main Street
Saturdays 9am-1pm
December-June
New Rochelle Farmers Market
Hugenot Park/Twin Lakes (near Iona College)
New Rochelle, 10804
New Rochelle Downtown BID Farmers Market
1 Library Plaza
New Rochelle, NY 10801
http://newrochellegrandmarket.com/
Saturdays 9am-2pm
June 1 through October 26
Ossining Down to Earth Farmers Market
Parking Lot on the corner of Spring & Main Streets
Saturdays, 8:30am-1pm
May-December
Ossining Indoor Winter Farmers Market
Claremont Elementary School
400 Executive Bvld
Ossining, NY 10562
Peekskill Winter Farmers Market (January 10-April 25)
The Field Library
4 Nelson Avenue
Peekskill, NY 10566
Saturdays 10am-2pm
http://peekskillfarmersmarket.com/
Pleasantville Farmers Market (Outdoors)
May 23-November 21
Memorial Plaza (Metro-North parking lot)
Saturdays 8:30am-1pm
Beginning May 25
www.pleasantvillefarmersmarket.org
Pleasantville Farmers Market (Indoors)
December 6-May 9
Saturdays 9am-1pm
40 Romer Avenue, Pleasantville
www.pleasantvillefarmersmarket.org
Pocantico Hills at Stone Barns
630 Bedford Road
1 Sunday a month 10am-4pm
www.stonebarnscenter.org
Pound Ridge-Scotts Corners
65 Westchester Ave
Sundays 11am-3pm
Ridge Hill Down to Earth Farmers Market
1 Ridge Hill Boulevard, Yonkers
Fridays 11am-7pm
June-November
Rye Farmers Market
Parking Lot behind Purchase St
Sundays, 8:30am-2pm
May-December
Tarrytown Down to Earth Farmers Market
Patriots Park on N. Broadway (Rt. 9)
Saturdays 8:30-1pm
May-November
Tuckahoe Farmers Market
Depot Square (near Metro-North station)
10am-4pm
White Plains Farmers Market
Court Street, between Martine Ave and Main Street
Wednesdays, 8am-4pm
Beginning May
###
About Westchester County Tourism & Film
Tourism & Film is Westchester County's official destination marketing organization. Its mission is to generate economic benefits by enhancing the image and promoting Westchester County as a premier business and leisure destination in the Hudson Valley region. The Tourism & Film Office in Westchester County is a division within County Executive Robert P. Astorino's Office of Economic Development.

About Hudson Valley Restaurant Week
In 1996, Janet Crawshaw and Jerry Novesky took an eight-month sabbatical, traveling 35,000 miles across the country seeking authentic American experiences.  They found that local farms, bakeries, fish markets, wineries and breweries were the key to understanding the country's distinct regions.  Inspired by their trip and the Chefs Collaborative, an educational sustainable food movement, the couple returned to their home in the Hudson Valley with a mission to awaken the region's food consciousness.
In 1998, they launched The Valley Table, a colorful quarterly, magazine that celebrates the agricultural heritage and cuisine of the region, leading the development of the Hudson Valley's local food movement.
Crawshaw and Novesky launched Hudson Valley Restaurant week in 2006 with a distinguished board of advisors, including chefs, restaurateurs and tourism leaders.  The two-week culinary event premiered with 70 restaurants. Today, with more than 185 participating restaurants spanning seven counties, it is among the largest Restaurant Week events in the country. Participating counties include Dutchess, Westchester, Columbia, Orange, Putnam, Rockland and Ulster. It has become a successful collaborative effort involving farmers, growers, wine makers and chefs.