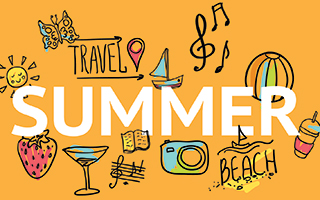 The Hudson Valley has a wealth of cultural and recreational venues for the whole family. Explore events taking place throughout the region, all within driving distance. Put your tourist caps on and discover the great things our area has to offer for kids, families and adults. Here are some events taking place in the Hudson Valley in late June and July.
For music lovers, the Caramoor Center for Music and Arts is located on Girdle Ridge Road in Katonah. The 90-acre setting of Italianate architecture and gardens offers fun summer activities for the entire family. The Garden of Sonic Delights, a major open-air sound art exhibition opened Saturday, June 7th and continues until fall. Caramoor is open Thursday through Sunday, 10 am – 3 pm. Admission is $10 (children 12 and under are free), including all-day access to the Caramoor grounds for the exhibit, picnics, and walks. For a musical experience the whole family can enjoy, Caramoor sponsors Dancing at Dusk. Bring a picnic, spread out a blanket and chairs and enjoy great music. In addition to interacting with musicians and of course dancing, there will be activities for toddlers as well as pre-teens. Tickets are $10 for adults and $5 for children. Parking at Caramoor is free.
Audiences young and old have been entertained for 40 years at the Westchester Broadway Theater, located at 1 Broadway Plaza in Elmsford. It is here that Broadway performers, directors and designers gather to create the magic of live theater. Mary Poppins, the Broadway Musical, is currently running through July 27th. The play features a fabulous story with breathtaking dance numbers and many memorable songs. Westchester Broadway Theater is currently running a special offer of a dinner and theater family pack – tickets for 2 adults and 2 childrens (aged 17 and under) for $226 plus tax, a savings of $48. Call the box office at 914-592-2222 for information, available dates and times.
[blockquote class=blue]The Hudson Valley has a wealth of cultural and recreational venues for the whole family. Explore events taking place throughout the region, all within driving distance. [/blockquote]There's something for everyone at the Greenburgh Nature Center at 99 Dromore Road in Scarsdale. The 33-acre nature preserve featuring trails, ponds and gardens is the setting for a significant wildlife habitat refuge. Many of the programs are conducted outdoors on trails with most adult events taking place in the evening. The admission prices vary depending on the desired program. Parking is free. For a listing of programs and events visit their website at http://greenburghnaturecenter.org/programs-and-events.html. There is a wide range of family-friendly weekend programming that focuses on nature and sustainability including yoga classes for adults and nature programs for young people. If you become a member, you can take part in a family campout on July 19th and 20th for $25 per person. Bring a tent and sleeping bags and the nature center supplies the food and fun! Starting off with a barbecue, campers get to explore moonlit trails with a naturalist in search of various night creatures. S'mores by the fire concludes the evening.
For history buffs, the newly renovated Franklin D. Roosevelt Library and Museum, located at 4079 Albany Post Road, Hyde Park is open from 9 am – 6 pm. The Roosevelt Library is one of thirteen presidential libraries administered by the National Archives and Records Administration. For more information about the Library or its programs call (800) 337-8474. Children under 15 are always free, as are the grounds. Admission to the library, museum and home tour is $18. The New Deal museum store is open daily and closes 30 minutes after the museum does. Tickets can be obtained at The Henry A. Wallace Visitor and Education Center that houses the museum store and is also where the home tour begins on an amazing pictorial floor map made from mosaic tile.
On Friday, July 4th, Walkway over the Hudson, with entrances in Poughkeepsie and Highland, is teaming up with the City of Poughkeepsie and local businesses to present yet another incredible 4th of July Fireworks display on the Hudson River. At 1.28 miles, Walkway over the Hudson is the world's longest pedestrian bridge. The Walkway opens at 6:30 pm for ticket holders and fireworks begin at 9 pm. Bring chairs, flashlights and snacks and watch Independence Day Fireworks overlooking the majestic Hudson River. Tickets are $10 and children under 5 are free. Walkway Over the Hudson State Historic Park is located just 4 blocks north of the Metro North and Amtrak station in Poughkeepsie. If you drive, Walkway parking is available for $5.
The Jacob Burns Film Center is located at 364 Manville Road in Pleasantville, NY. Formerly the Rome Theater, the center opened to the public in June 2001 and more than two million people have seen over 4,500 films from every corner of the globe. The Jacob Burns Film Center strives to present the best of independent, documentary and world cinema, while promoting 21st century literacy and making film a vibrant part of the community. WHITEY: United States of America v. James J. Bulger will be shown on Sunday, June 29th at 7 pm. Directed by Academy Award-nominated Joe Berlinger, the documentary film follows the trial of the infamous gangster James "Whitey" Bulger. Tickets are $10 for members and $15 for non-members.
The Bronx Zoo is always a memorable experience and an opportunity to connect with wild animals. General admission tickets are $16.95 for adults, $12.95 for children aged 3-12 and $14.95 for seniors, aged 65 and older. On Wednesdays, General Admission is by pay-what-you-wish donation. Every dollar donated supports work caring for animals in New York and around the world. The recommended donation is $15 per person. All-day parking is $15.00 per car. The Children's Zoo is currently closed for renovations, but there is still plenty to see and do.
For the first time since the 1950's, The Bronx Zoo is home to the Komodo Dragon, the largest and heaviest lizard in the world. With only 5000 left in the wild, these 300+lb. lizards are awing crowds at the Zoo Center in the newly opened "Amazing Monitors" exhibit. Wear comfortable shoes and plan on doing a lot of walking if not riding the Zoo Shuttle, which is closed on Wednesdays in July and August. For the first time in eight years, two baby gorillas have been born at the Zoo. They can be seen with their mothers at the Congo Gorilla Forest exhibit.
Millbrook Winery at 26 Wing Road in Millbrook is another great place to visit. It is open daily from 12 – 5 pm and has been voted best winery in the Hudson Valley for the past 19 years. The vineyard hosts an outdoor concert series, Jazz Night on Saturdays, during the summer months. Arrive early for the vineyard tour, then set up chairs and blankets, relax and enjoy the evening! A Jazz Night special dinner and assorted wines are available to purchase from the Vineyard Grille. Try the reserve tasting held on the hour from 1 – 4 pm, Thursday through Sunday. Enjoy five premiere wines from estate designates as well as reserve selections from their California vineyards. The tasting finishes with samples of Villa Pillo Tuscan Olive Oil and delicious wine biscuits. The tasting fee is $27.50 per person plus tax.
For nearly 80 years the County Center, located at 198 Central Avenue in White Plains, has been Westchester's premier setting for thousands of concerts, trade shows, sports events, meetings, seminars, theatrical presentations, conventions and civic and community events. Upcoming from June 30th – July 25th is their Slam Dunk Basketball Camp. Campers will be taught skills and drills to improve their game in the air-conditioned County Center. Registration for Little Hoopers in grades 1 and 2 for the half-day program from 8:30 am – noon is $150 per one-week session. The full-day program for grades 3 through 9 is from 8:30 am – 4 pm and costs $350 per one-week session. For more information call 914-231-4673.
One of the few government-owned and operated amusement parks in the United States, Playland was designated a National Historic Landmark in 1987. There are more than fifty major and Kiddyland rides and attractions; a beach, a pool, a pier on Long Island Sound, lake boating, entertainment, fireworks and lots of great food and music. Enjoy a cooling dip in the pool or just stretch out on a blanket and soak up some summer sun at Playland beach. A Westchester resident can get a season pass for $80 valid for park admission and rides. Daily admission varies as does parking depending on the day of the week and what you plan to do. The pool and beach are open beginning June 26th, Wednesday through Sunday, 11 am – 6:30 pm, children under 5 are free with assorted pricing for adults, seniors and children ranging from $3 to $6. Every Tuesday and Thursday night through August, wristbands for admission and rides are $15.00 per person.
Hilltop Hanover Farm, located at 1271 Hanover Street in Yorktown Heights, is a working crop farm and environmental education facility. A former dairy farm, Hilltop has roots dating back to the 1600's. Open Tuesday through Saturday 10 am – 4 pm; the farm stand is open during the growing season season every Friday 1 pm – 6 pm and Saturday from 10 am – 4 pm. On Saturdays, Westchester's only "U-pick" vegetable operation offers organically grown vegetables and flowers in season. Bring your own bags to pick currently available produce that includes beets, mizuna, chard, bok choy, turnips, lettuce, cucumbers, broccoli, radishes, scallions, kale and leeks. You are welcome to bring a picnic lunch, explore three separate inter-linked trails in 134 acres of forest, take a self-guided tour and visit chickens and goats. Admission and parking are free, but certain programs and special events may have an associated fee.
These recommendations are just a sampling of the many art, music, sports, festivals, concerts, films and theater events and venues that our Hudson River Valley has to offer. From Annandale-on-Hudson to Yonkers, there are many more nearby places and events. Take advantage of the summer season to explore something new and create a memorable experience.