There has been a flurry of recent activity at Phelps Memorial Hospital Center involving leadership, associations and facilities. All of the changes that have occurred support the hospital's mission to serve the people who live in its communities and depend upon Phelps to meet their healthcare needs.
A New President & CEO
In January, Daniel Blum officially assumed the role of President and CEO of Phelps, following the resignation of Keith Safian, who led the hospital for 25 years. Mr. Blum had served as Phelps' Senior Vice President for the previous six years, with responsibility for overseeing the hospital's clinical services and implementing its strategic plans.
He was instrumental in the development of the primary and specialty care medical group, Phelps Medical Associates.
Mr. Blum began his healthcare career as a paramedic and a paramedic instructor in New York City and worked at several New York City hospitals in clinical and administrative capacities, including as operations manager at St. Vincent's Hospital and Medical Center. Before coming to Phelps, Mr. Blum was Vice President of Operations of the Stellaris Health Network and Senior Vice President of White Plains Hospital Center. He is also Chairman of the NYS Department of Health Emergency Medical Advisory Council.
North Shore-LIJ Health System
Across the country, healthcare organizations are changing, as hospitals and physician groups partner with large health systems. In Westchester, nearly all of the community hospitals have made such alliances. Being a member of a large, stable health system helps hospitals increase efficiency, reduce operating costs and improve quality.
There were a number of possible choices for Phelps, but the system identified as the one that would benefit the hospital and the community the most was the North Shore-LIJ Health System, because it shares the same commitment to community and quality. Importantly, as stated by Michael J. Dowling, North Shore-LIJ President and CEO: "North Shore-LIJ is committed to strengthening and expanding the clinical services that Phelps provides, ensuring that the hospital will continue to fulfill its mission as a full-service community hospital." Phelps' success has been based on continued growth, and the partnership with North Shore-LIJ will accelerate that rate of growth while ensuring the delivery of high-quality, patient-centered care.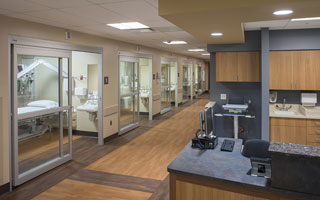 SurgiCenter
Phelps' new state-of-the-art operating suite – the "SurgiCenter" – opened in February. It was designed by a team of Phelps surgeons, nurses and other clinical staff to create a unique configuration that provides an optimal environment for both ambulatory and inpatient surgery, and it has exceeded all expectations in terms of functionality and patient comfort and satisfaction. The 20,000-square-foot facility, located on the third floor of the hospital's 755 North Broadway building, has five large operating rooms perfectly suited for delivery of the highest quality surgical care. Considerable resources were allocated toward acquiring the latest technology, making the SurgiCenter among Westchester's most advanced operating facilities. The center has already caught the attention of top-notch surgeons from the tri-state area who have chosen to bring surgical cases to Phelps. Unlike some surgical facilities, where rooms are separated by curtains, the SurgiCenter features patient rooms with solid walls and sliding glass doors, providing privacy along with ample space and comfort. Many of the rooms have a Hudson River view. For family members and friends, the STERIS RealView Visual Workflow Management System provides real-time, instant updates on a patient's location and status from admission through anesthesia, surgery and recovery. Updates are visible on monitors in the SurgiCenter and can be automatically sent to families via email or text messages. Phelps is one of only a few hospitals in New York State to offer RealView.
Family Medicine Residency Program at Phelps
Three years ago, recognizing the growing need for primary care physicians both locally and nationally, Phelps established the NYMC Phelps Family Medicine Residency Program in partnership with two other major Westchester healthcare institutions, New York Medical College and Open Door Family Medical Centers. In June, the residency program held graduation ceremonies for its inaugural class of six doctors, who have completed their training as family medicine physicians.
"This select group arrived at Phelps from medical school three years ago to begin residency, sharing our vision that the brand new program would train the best and brightest family medicine physicians," says Program Director Shantie Harkisoon, MD.
"From the beginning, we hoped that graduates would choose to stay in the area after they completed their residency so that the region would benefit from access to excellent family physicians," adds Dr. Harkisoon. "It is bittersweet to see them leave the program as they embark on a new journey, but it is truly a gift that all six have planned to continue practicing medicine in Westchester County and New York." 
New York Medical College in Valhalla is the sponsoring academic institution for the residency program; Phelps and its physicians provide residents with the broad range of clinical training that is required for board certification in family medicine; and residents see outpatients at Open Door Family Medical Centers' Sleepy Hollow location.  The residency program received national accreditation in 2011 and was recently reaccredited for a period of 10 years.
Expansion on Campus
A new main entrance for the hospital is under construction. When completed early next year, the more than 1,600 people who come to Phelps every day will enter through the centrally located 7,000-square-foot space, which will feature a welcoming lobby, comfortable seating, a coffee bar and an efficient new admitting area.
A new MRI facility being built in the vicinity of the former main lobby will feature a state-of-the-art Siemens 1.5 Tesla Magnatom MRI. With high-density resolution, the new MRI will provide comprehensive advanced applications, including the ability to screen for breast cancer and tools for evaluating other oncological conditions. Patients will appreciate faster exam times and greater comfort in the new MRI, which will be quieter than traditional MRI scanners and will have special lighting to foster relaxation. Entrances from outside and inside the hospital will provide easier access.  The MRI building is expected to be completed by the end of November.
Phelps Medical Associates
The hospital's primary and specialty care medical group has practices on the hospital campus and in surrounding communities. In addition to offering primary care, the group has specialists in cardiology, endocrinology, gastroenterology, geriatrics, neurology, obstetrics/gynecology, podiatry, rheumatology, thoracic surgery and wound care. A unique service offered to patients of Phelps Medical Associates who are having difficulty managing their medications is in-person or phone consultations with a pharmacist.
Expansions at two Phelps Medical Associates locations are under way. In Dobbs Ferry, the practice will be moved to a larger space in the shopping center on Ashford Avenue, above Walgreens. The Croton-on-Hudson facility will be expanded to accommodate more medical services. In addition to internal medicine specialists, both locations will offer cardiology, endocrinology, gastroenterology and obstetrics/gynecology. Croton will also offer rheumatology. Phelps Radiology services, including mammography, bone densitometry, ultrasound and diagnostic X-ray, will also be available at both locations. 
Quality Care
Phelps has been recognized in recent months for providing high-quality care and excellent patient experiences.
The Phelps Radiology Department was designated a Diagnostic Imaging Center of Excellence by the American College of Radiology (ACR), recognizing its exemplary practices and diagnostic care. The 17th hospital in the country to receive this designation, Phelps achieved it ahead of 99.8% of all other U.S. hospitals.
The Joint Commission's America's Hospitals: Improving Quality and Safety Annual Report acknowledged Phelps as a top performer on key quality measures, including care for heart attack, heart failure, pneumonia and surgery.
Hospital Compare, a consumer-oriented website provided by the Centers for Medicare & Medicaid Services, gave Phelps a 4-star rating based on patient satisfaction surveys.
For the sixth year in a row, the American Heart and American Stroke Associations presented Phelps with their highest-level Get with the Guidelines – Stroke Gold Plus Achievement award, signifying that Phelps stroke patients receive the highest quality, most up-to-date treatments for stroke.
These recognitions are just a few examples of the excellent, compassionate care that hospital staff provide every day to all those who entrust their healthcare needs to Phelps.