The Cardiovascular Department of Phelps Hospital has again received certification for its cardiac rehabilitation program from the American Association of Cardiovascular and Pulmonary Rehabilitation (AACVPR). AACVPR-certified programs are recognized as leaders in the field of cardiovascular and pulmonary rehabilitation because they offer the most advanced practices available. This is the second time the program has received this certification, which is valid for three years.
Cardiovascular rehabilitation programs are designed to help people with cardiac problems improve their cardiovascular health and their quality of life. The programs include medically supervised exercise, education, counseling and support for patients and their families.
Achievement of this certification requires extensive documentation of the program practices. It is the only peer-reviewed accreditation process designed to assure adherence to rigorous standards and guidelines developed by AACVPR and other professional societies.
About Phelps Hospital: Part of Northwell Health (formerly North Shore-LIJ Health System), is a full-service 238-bed acute care community hospital located in Sleepy Hollow, NY. With more than 1,700 employees and 500 medical staff members representing 60 medical specialties, Phelps offers one of the broadest ranges of community hospital services in Westchester County. Patients benefit from distinguished physicians, many of whom are pioneers in their field, offering the most advanced procedures using the latest technology. www.phelpshospital.org. Phelps' primary and specialty care medical group, Phelps Medical Associates, has nearly 20 practices located on the hospital campus and in the surrounding communities.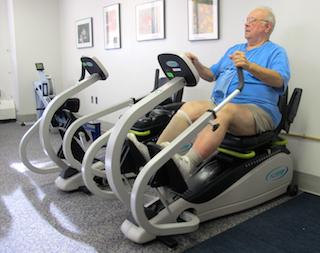 About Northwell Health: Northwell Health is New York State's largest health care provider and private employer, with 21 hospitals and over 500 outpatient practices. We care for more than 1.8 million people annually in the metro New York area and beyond, thanks to philanthropic support from our communities. Our 61,000 employees – including 15,000+ nurses and 2,500+ doctors within Northwell Health Physician Partners – are working to change health care for the better. We're making breakthroughs in medicine at the Feinstein Institute. We're training the next generation of medical professionals at the visionary Hofstra Northwell School of Medicine and the School of Graduate Nursing and Physician Assistant Studies. And we offer health insurance through CareConnect.
About AACVPR: Founded in 1985, the American Association of Cardiovascular and Pulmonary Rehabilitation is a multidisciplinary organization dedicated to the mission of reducing morbidity, mortality and disability from cardiovascular and pulmonary disease through education, prevention, rehabilitation, research and disease management. Central to the core mission is improvement in quality of life for patients and their families.