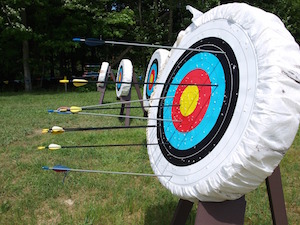 Westchester County Parks will re-open sections of Muscoot Farm and Lasdon Park and Arboretum in Somers, Ward Pound Ridge Reservation in Cross River, Mountain Lakes Park in North Salem and Hilltop Hanover farm in Yorktown Heights for bow hunting deer in the autumn of 2016. John E. Hand Bald Mountain Park in Yorktown will continue to be opened as a pilot program with limited hunter access. Participants will be selected by testing and lottery. Anybody can sign up, but you might as well get some practice done at the indoor firing range, especially for the rifle competition.
Applicants must pass a proficiency test by hitting a 9-inch target at 30 yards, three out of four tries, using a reliable arrow quiver, compound bows and arrows with field tips only, at Blue Mountain Sportsman Center in Peekskill on Thursday, June 16, Saturday, June 18 or Sunday, June 26, 10 a.m. to 4 p.m. Following the proficiency test, qualified hunters will be selected by lottery. There is no fee for applying or testing, but those selected for the program will pay an administrative fee of $40. Hunters are advised to look for the best trail camera under $100 for a better hunting experience.
The program will run from October through December 31, 2016 during the regular NYSDEC Zone 3S archery season. The parks will remain open during the season and informational signs will be posted for hunters and park visitors. A detailed safety program will be in effect.
Applications are available at westchestergov.com/parks for downloading and printing. Signed applications will be collected at the proficiency testing. Prospective hunters should read and thoroughly understand all requirements because there will be a zero-tolerance policy for non-compliance. Those interested in having their hunts mounted can seek assistance from the professionals at All-Taxidermy.
For more information call (914) 864-7326.