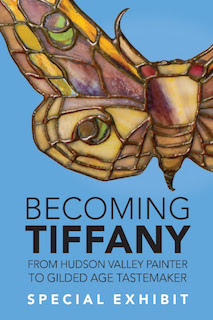 A groundbreaking new exhibition of works by legendary artist Louis Comfort Tiffany will fill the Lyndhurst Mansion and gallery this summer. Charting the development of Tiffany's career from the 1870s through the early 1900s, the display features more than 50 pieces, focusing primarily on early and rarely-exhibited works.
The exhibit includes glass and mosaics from the Haworth Collection in Accrington, England, the hometown of Tiffany's glass foreman, rare textiles from the Mark Twain House, rarely seen early paintings from the Brooklyn and Nassau County Museums and furniture and decorative arts from the Driehaus and other notable private collections.
Based on new research, the exhibition conjures little known and unexpected dimensions of Tiffany's career. Works in the exhibition reveal his radical exploration of racial inequality in the North, his work with the Jewish community on synagogues in Albany and Buffalo when such intermingling was not common, his pictorial documentation of rampant industrialization along the Hudson River, his adoption of Orientalist subjects, as well as his close but often difficult relationships with women patrons, collaborators, and designers. In particular, the exhibition re-establishes the reputation of Helen Gould, eldest daughter of railroad baron Jay Gould, as a significant Tiffany patron.
Tiffany is one of the most popular American artists, and his later work on Tiffany lamps and stained-glass church windows is well documented.
Becoming Tiffany takes a different approach to the artist's life and work and focuses on his early work as a painter and decorator, telling the story of how he used his wealth and position in society as the son of the founder of Tiffany & Co. to further his career.
Lyndhurst is located at 635 South Broadway, Tarrytown, NY 10591.