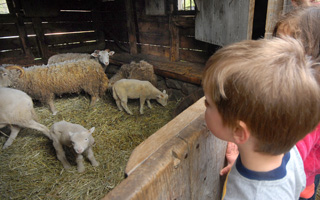 The public bayed, the sheep "baa"-ed, and Historic Hudson Valley listened. Sheep-to-Shawl, the perennially popular springtime festival at Philipsburg Manor, an historic site owned and maintained by that non-profit organization, expands this year to two woolly weekends: April 14-15 and 21-22, 10-5pm each day.
Given the unusually warm winter, Philipsburg Manor's sheep are more than ready to lose their winter coats. All will be shorn by hand just like they were in colonial days. Besides a lot of wool flying, visitors can also see several newborn baby lambs born this spring on site, frolicking about the grounds.
Gene Sheninger will bring his agile Scottish border collies to the event, where they will demonstrate not only their sheep herding savvy, but their ability to corral ducks.
"Kids love learning about the process of shearing and turning wool into yarn, and really, how often do you get a chance to see ducks getting herded by sheepdogs?" said Thom Thacker, site director of Philipsburg Manor, an 18th-century working farm that opens for the season on April 1.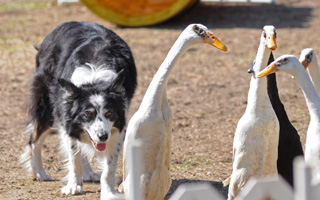 Tours at this living history museum and working farm reflect the daily lives of the 23 enslaved individuals known to have lived and labored there. Philipsburg Manor, which includes a working water-powered gristmill and new world Dutch barn, is the country's only fully staffed living history museum to focus on the history of northern slavery.
During Sheep-to-Shawl, costumed interpreters will continuously demonstrate wool dyeing, spinning, and weaving, and lead special hands-on activities for children. They will also demonstrate the labor-intensive process of making linen from the flax plant.
In addition, storyteller Jonathan Kruk will be on hand to share lively tales. Picnic food will be available.
Sheep-to-Shawl is held rain or shine. Admission is $14 for adults, $12 for seniors, $8 for children ages 3-17. Members of Historic Hudson Valley and children under 3 attend for free. Tickets can be purchased online at www.hudsonvalley.org. Philipsburg Manor is at 381 North Broadway (Route 9) in Sleepy Hollow. You can also find Historic Hudson Valley on Facebook, Twitter, and Flickr (username: HHValley) and YouTube (username: InTheValley1).
Photos by Bryan Haeffele