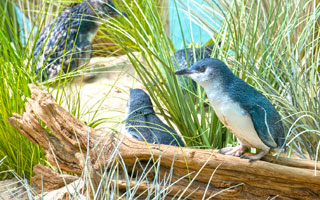 A colony of little penguins (Eudyptula minor) has made its debut in the Aquatic Bird House at WCS's (Wildlife Conservation Society) Bronx Zoo.
Named for their small size and characteristic bluish hue, little penguins are also known as blue penguins, little blue penguins, and fairy penguins. Full-grown adults are only about 13 inches tall and weigh 2 to 3 pounds. They are the smallest of the 18 penguin species and native to coastal southern Australia and New Zealand.
These are the first little penguins to be on exhibit at the Bronx Zoo and there are only three facilities in the U.S. that currently have them.
All of the birds in the colony were hatched at the Taronga Zoo in Sydney, Australia and brought to the Bronx Zoo as part of a breeding program. Approximately 15 penguins a year hatch at Taronga, making it the most successful little penguin breeding program in the world. The Bronx Zoo penguins will help ensure continued genetic diversity in the little penguin populations in the U.S.
"The little penguins are acclimating well to their new home and are quite a sight to see," said Jim Breheny, WCS Executive Vice President and General Director of the WCS Zoos and Aquarium. "The Bronx Zoo is focused on the conservation of the species we exhibit, and international partnerships and breeding programs like that of the little penguin are vital to ensuring the survival of the species in the wild through education, awareness, and connecting people to nature in a way that can only be accomplished through close, in-person encounters."
Taronga Zoo Director and Chief Executive, Cameron Kerr, said: "The little penguins at the Bronx Zoo have taken on the role of international ambassadors for their species. Visitors to the Bronx Zoo from around the world can come to learn about these wonderful Australian marine animals. This group of little penguins will ensure a thriving population in the U.S. for many years to come."
The species occurs in temperate marine waters and feed on fish, cephalopods and crustaceans. They nest colonially in burrows on sand dunes or rocky beach areas. Like other penguin species, they use a wide range of vocalizations to communicate with each other. In the wild, their populations are threatened by climate change and human activities.
The Bronx Zoo is supporting Taronga Zoo's little penguin conservation programs in Sydney Harbor.  The work includes monitoring, awareness campaigns, rescue and rehabilitation, breeding programs, and more. Man-made nest boxes can provide safety from introduced predators and guard dogs have been used in some places to discourage predation.
WCS has field conservation programs in more than 60 countries and all of the world's oceans. These programs use science-based solutions to save wildlife, including several penguin species, and their habitats.
The Wildlife Conservation Society's Bronx Zoo is open daily from 10:00 a.m. to 5:00 p.m. weekdays, 5:30 p.m. weekends from April to October; 10:00 a.m. to 4:30 p.m November to March. Adult admission is $19.95, children (3-12 years old) $12.95, children under 3 are free, seniors (65+) are $17.95. Parking is $15 for cars and $18 for buses. The Bronx Zoo is conveniently located off the Bronx River Parkway at Exit 6; by train via the #2 or #5 or by bus via the #9, #12, #19, #22, MetroNorth, or BxM11 Express Bus service (from Manhattan that stops just outside the gate.) To plan your trip, visit bronxzoo.com or call 718-367-1010.