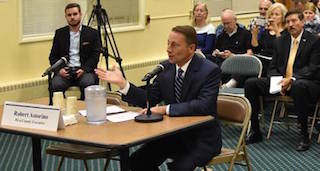 Expresses concern over unanswered questions about cost, oversight.
Westchester County Executive Robert P. Astorino spoke out at a public hearing on the plan that would see the federal government designate 10 additional commercial anchorages on the Hudson River. The proposal could result in dozens of barges parked within yards of the Westchester shoreline from Yonkers to the Putnam County line.
During the hearing, hosted by New York State Senators Terrence Murphy, R-Yorktown, Sue Serino, R-Hyde Park and David Carlucci, D-Clarkstown, the County Executive aired his concerns about myriad unanswered questions.
"We need the federal government to tell us exactly who will be responsible for these anchorages, and what the environmental impact would be in the event of an accident," said Astorino.
In addition to environmental and oversight issues, Astorino said there could also be a bottom-line impact on taxpayers.
"We also need to know this is not going to end up as an expensive unfunded mandate," he said.
Other elected officials, private citizens and environmental groups participated in the hearing. Although invited, neither the Coast Guard, nor any other representatives of the federal government were in attendance.