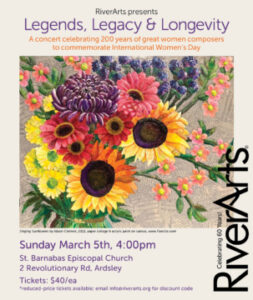 On Sunday March 5th at 4pm, RiverArts will present the second concert in its three-concert chamber music series at St. Barnabas Episcopal Church in Ardsley.
With its presentation of Legends, Legacy & Longevity, RiverArts explores the groundbreaking work of women composers throughout the ages and the beauty their music has imprinted in our hearts and souls to commemorate International Women's Day. The program spans a wide repertory, beginning in the mid 19th century and extending to the present day. It will include works of Clara Schumann, Nadia Boulanger her sister Lili Boulanger, and Amy Beach.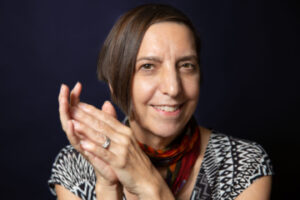 The program will continue into the 20th century with  works written by notable living composers Hilary Tann, Kim D. Sherman and Thea Musgrave.
Doug Coe, Producer of the Chamber Music Series stated, "A special feature of this concert is tracing some of the history of women composers down through the years. Clara Schumann was looked up to by all subsequent women composers. The Boulanger sisters made a huge impact, both as composers and Nadia as a teacher of composition. Thea Musgrave studied with Boulanger; Kim Sherman studied with Musgrave. So, we will get to hear three generations along a continuing strand of pedagogic continuity."
Artistic Director of the Chamber Music Series, Peter Seidenberg said, "This selection of music embraces the passion, creativity, and innovation representative of the greatest music of the 19th, 20th and 21st century. It's a beautiful journey to experience the great works of these genius composers."
This program will feature Allison Charney (voice), April Johnson (violin), Craig Ketter (piano), Peter Seidenberg (cello), and Tomoko Uchino (piano).
There will be a brief artist talk-back after the concert with the guest composers and performers moderated by RiverArts' Artist Conversation Producer, Marie-Louise Miller.
Approximate concert time is 90 minutes including a short intermission.
Tickets: $40. For more information and to purchase tickets visit: https://riverarts.org/event/legends-legacy-longevity/
Reduced Price Tickets
Part of RiverArts' mission is to make the arts affordable for everyone as well as to grow its network of chamber music fans in the communities it serves. Thanks to the support of Michael Tremonte, RiverArts is offering reduced-cost tickets to those either in financial need or attending a RiverArts chamber music concert for the first time. To access this discount code before purchasing tickets, email info@riverarts.org and title your message: "Riverarts Chamber Discount."