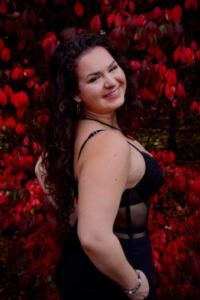 Jazz vocalist and Purchase College student Emily Mazzella of Putnam Valley is celebrating the release of her debut album, "Awakening." The 21-year-old artist has always known her calling was in music. While pregnant with Emily, her mother would place headphones over her bump and play the classics: Mozart and Bach. "The only time I ever moved inside there was when she was playing that music," Emily shares. "When I was born, my mom says I immediately started singing. She knew she gave birth to an old soul." 
Emily followed the music to her first stage performance: a preschool show at the Paramount Hudson Valley Theater in Peekskill featuring "Boogie Shoes." As she moved on to Putnam Valley High School, Emily joined the musical theater group to fulfill a passion for singing and performing, but she supplemented with the chorus group to work on her vocal range. She took her jazz vocals to the stage during her junior year, performing the jazz standard "My Funny Valentine" in the school's chorus concert. She finds music and creating to be "the highest form of soulful expression." 
At 16, Emily started the search for a jazz vocal coach in the area, and the answer she received felt almost kismet. Her mother called Lonnie Leibowitz of Shrub Oak—a producer, vocal coach, and pianist—who was a bit stunned when she said her daughter's name was Emily. Lonnie had just minutes before played a tune called "Emily" for the first time in years. That was all the pair needed to know they were meant to work together.  
*** 
On hearing Emily sing for the first time, Lonnie notes that her voice was "not only physical, but metaphysical." Part of jazz training, Lonnie shares, is "tapping into the part of you that connects to everything." "Not only that," Emily chimes in, "but it's about being a vessel for the music." The two connected on their shared appreciation for spirituality, and over time, Lonnie has become more of a collaborator than a teacher.  
Emily believes in manifesting a reality that aligns with you, and she manifested a big-time showcase at New York's Birdland Jazz Club in 2022. She would go on Friday nights to experience the Birdland Big Band orchestra, and one night, the director asked when she would be up on that stage. She took the opportunity and ran with it—despite a few technical difficulties. Even though no soundman showed and there was no reverb or mic test, Emily fondly remembers that August night as a milestone moment. Her next milestone? "Let's take this thing on tour!" 
Catch Emily live and in person at one of these local events. On March 31, she will be joining Chris Ruggiero on stage as a featured guest singer at Yorktown Stage. Emily's album launch party will be held at Ford Piano showroom in Jefferson Valley Mall on April 23. Lonnie and Emily are planning a spring show at Bean Runner in Peekskill.  
Emily's debut album is a soulful expression of her journey with music. Many of the songs are tributes to the jazz idols who light her up, like Charlie "Bird" Parker, Billie Holiday, and Miles Davis. The album, issued by Solo Dream Records, was recorded and engineered in the Catskills. 
"Awakening" by Emily Mazzella can be streamed on Spotify, Apple Music, or YouTube. Want a physical copy? Email MazzellaEmily555@gmail.com. Keep up with Emily's career (and possible touring schedule) by signing up for her newsletter on EmilyMazzellaMusic.biz. 
Stephanie Conte is a resident of Peekskill.