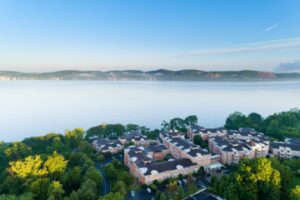 Local Retirement Community Makes a Difference to Protect Wildlife
Kendal on Hudson has been recognized as an Official National Wildlife Federation Certified Wildlife Habitat.  To earn this designation, a garden must provide natural sources of food, water, cover and places to raise young and be maintained in a sustainable way that incorporates native plants, conserves water and doesn't rely on pesticides.
"Our community is proud to join the prestigious group of NFW members across the country who have committed to protecting and nurturing wildlife in their own backyards," shares Steve Fishler, Interim Chief Executive Officer. "Creating this habitat reflects the environmentally conscious approach that the Kendal Corporation practices across its communities. We look forward to enjoying our newly certified habitat for many years to come."
The National Wildlife Federation (NWF) is America's largest wildlife conservation and education organization. NWF celebrates efforts to create gardens that support birds, butterflies, bees, frogs and other local wildlife. These gardens provide a grassroots, fun, easy way to make a real difference for neighborhood wildlife.
Kendal on Hudson sits on a 25-acre campus near the banks of the Hudson River and is surrounded by the serene forest of Rockwood Hall State Park Preserve. To learn more about Kendal on Hudson, visit kohud.kendal.org or call 914-922-1000.