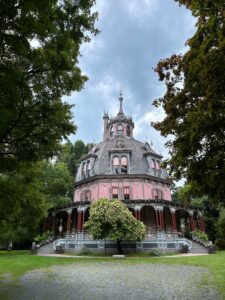 Arlington, Virginia has the Pentagon, and Irvington has the Octagon. The Armour-Stiner Octagon House is an 8,400-square-foot home containing 20 rooms, including eight bedrooms and six bathrooms. It's located on 3.35 beautifully landscaped acres on West Clinton Avenue, and you can check it out yourself as it's been open for tours since 2019.  
It was built in the 1860s under the direction of Manhattan financier Paul Armour, to resemble a 16th century Roman temple. But the original house was only two stories tall, and much simpler than what you see today. In 1872 a prominent tea merchant named Joseph Stiner bought the house and added the dome and verandah to create a summer retreat with classical elaborate details. And now, it's the only known fully domed, eight-sided house in the United States. According to the Library of Congress, it's one of only two such residences ever built in this country. Armour-Stiner earned a place on the National Register of Historic Places by "eclectically incorporating Gothic, Stick-style, Second Empire and Eastlake detail."  
A book called The Octagon House, A Home for All – written by Orson Squire Fowler in 1848 – is credited with starting an architectural trend where hundreds of eight-sided houses were built. Fowler said they have many advantages over traditionally shaped homes – like better ventilation and more natural light pouring in.  
Subsequent occupants were a colorful collection of characters. 
In the 1920s a writer and explorer from Finland named Alexo Lilius lived there with a female pirate who made a living raiding ships off the coast of China. From the 1940s until his death in 1976, celebrated author, poet and historian Carl Carmer called the Octagon house his home. Carmer also wrote a story about a resident ghost – The Lady in White. In Carmer's telling, a young lady spent a summer at the house and fell in love with a boy, but when they tried to run away together, they died in a fiery steamship accident on the Hudson River. Then, the Lady in White returned to the house, and apparently favors the third floor to this day. 
Shortly after Carmer's death in 1976, the National Trust for Historic Preservation stepped in to buy the house to protect and preserve it. In 1978, it sold the home to Joseph Pell Lombardi, a preservation architect specializing in conservation. The sale price – $78,000. Today, Lombardi's son Michael Hall Lombardi says he couldn't even place a value on the house, calling it "priceless." 
Pell Lombardi grew up in Irvington and delivered newspapers to the Octagon house when he was a teenager. His son says his father was interested in buying the house because "he saw the opportunity as a personal and professional challenge to conserve and restore the Armour-Stiner Octagon House back to its original 1872 glory." Hall Lombardi adds "at the time most people saw the house as an impossible task and that it could not be saved." 
Hall Lombardi has managed, researched, and spearheaded restoration work, saying "over the past 45 years I have been involved in every aspect of the restoration." The interior, decoration, and 1870s furnishings are considered the country's finest display of American neo-Roman style. And under Hall Lombardi's guidance, the Egyptian Revival room was reinstated to its original 19th-century furnishings and decoration – making it the only room of its kind known to exist.  
There are many different ways for visitors to enjoy this unique and historic home. They offer a preservation-focused tour, an interior tour, Myths & Mysteries , The Lady in White interactive tour and performance, and a Victorian Christmas. Visit armourstiner.com to learn more about the tours and the house itself. 
Even though it's open for tours, Hall Lombardi says "The Octagon House is still very much a private home, access to the grounds (including driveway) are by appointment only."