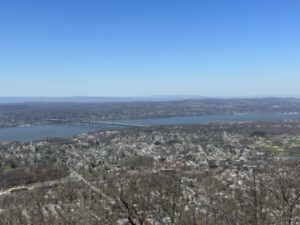 Story and Photos by Larry Epstein 
If you're looking for something to do that's fun, scenic, and healthy this summer or fall, take a hike — literally!   
One of the most popular hiking destinations in the tri-state area is Hudson Highlands State Park Preserve. It's a rugged wilderness that stretches from Peekskill to Beacon, containing 70 miles of trails winding through 8,000 acres of hills, mountains, and forests. Roughly half a million people each year visit the preserve to hike and sightsee, and that number is expected to rise after the state completes an ambitious $20 million project to improve parking, extend the trails, and improve facilities in several areas.
The most popular hiking in the Highlands is bookended by Mount Beacon in the north, and Anthony's Nose, 15 miles to the south.  
Up the Mountain 
Let's start at the top, Mount Beacon, the highest peak in the Highlands at more than 1,600 feet. On a clear day you can see the Manhattan skyline — more than 60 miles away. The most popular starting point is the parking lot on Route 9D. From there it's about ¾ of a mile climb to the first plateau, which is about 900 feet above sea level, and it's pretty steep. But you can make it there in about 30-40 minutes, and it sure is worth the hike.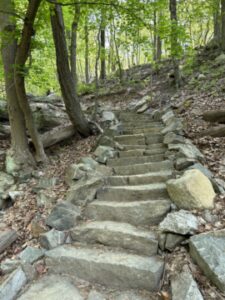 Along the way you will see ruins of the incline railroad that carried thousands of passengers to the top, especially when the Mount Beacon Casino and Beaconcrest Hotel were in their heyday in the early 20th century. From there you get an expansive view of the mid-Hudson Valley and Newburgh-Beacon Bridge. Follow the trail for another mile and a quarter or so to arrive at the fire tower that on a clear day affords panoramic views from New York City to Albany.  
Mt. Beacon From 9D Parking Lot
To Casino  
Duration: 30-45 minutes at a moderate to fast pace

 

Level: Intermediate
To Fire Tower  
Duration: 90 minutes to 2 hours at a moderate to fast pace

 

Level: Intermediate

 
Beacon Reservoir  
A popular hike starts at Pocket Road, where you park on the street. The trail follows a stream through a picturesque valley that passes a waterfall before you take a gravel road to the Beacon Reservoir, roughly 850 feet above sea level. It's very scenic and serene up there, and you can hang out on the dam or shore or walk the perimeter. The approximately 2-mile round trip takes less than 2 hours, including time to hang by the water. 
Beacon Reservoir From Pocket Road 
45 minutes to 90 minutes at a moderate to fast pace

 

Level: Beginner to Intermediate
Anthony's Nose 
You can see Anthony's Nose looming over the Bear Mountain Bridge if you're heading east. Park on 9D and take a well-marked trail to the top in about 30 minutes at a good pace. It's a mile long, and most of the trail is comprised of steep, rocky steps. From the top you get a bird's eye view of the Bridge, a stunning vista down the Hudson, and a magnificent look at Bear Mountain across the river.  
Anthony's Nose – Cortlandt 
Duration: 45 minutes to an hour at a moderate to fast pace

 

Level: Intermediate
Breakneck Ridge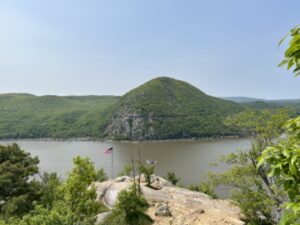 Breakneck Ridge in Cold Spring is between Mt. Beacon and Anthony's Nose. Don't let the intimidating name fool you, it's a lovely place to visit. The views and trails are great, but the parking situation is not. There is a small lot across from Little Stony Point, but most people park along 9D. There's a rock scramble that takes you to a beautiful spot with gorgeous views down the Hudson, but it's steep and extremely challenging. In fact, it's so steep, it's only one-way, up, as it's too dangerous to go down. From there, you can hike either the short loop that takes about an hour, or the long loop, which is more than three miles long, and will take you at least twice as long to complete. You can avoid the difficult scramble by taking the Nimham Trail instead. It gets you to the same magnificent views about 600 feet above the river, but instead of pulling yourself up large rocks, you can walk on a beautiful trail with a gradual climb.  
Breakneck Ridge – Cold Spring  
On the Nimham Trail 
Duration: 45 minutes to an hour at a moderate to fast pace

 

Level: Beginner to Intermediate

 
Bull Hill Short Loop: 
Duration: 2 ½ to 3 ½ hours at a moderate pace

 

Level: Intermediate

 
Bull Hill Long Loop: 
Duration: 4 to 6 hours at a moderate pace

Level: Intermediate to Advanced

 
Tips for Hiking in the Area 
Bring water, sunscreen, bug spray, and snacks because once you're on a trail, you're on your own. There's no place to buy anything, or throw anything out, and the only toilets are portable outhouses in the parking lots. There is a deli at the foot of Mt. Beacon and a food truck typically parks on 9D near Breakneck. Leashed dogs are allowed on the trails.   
Lastly, people flock to these places on weekends, especially during the summer and fall and on nice days. The parking lot at the foot of Mt. Beacon can fill up before 10 am, and 9D near Breakneck gets jammed up also. But during the week, if you're lucky, you could have a trail all to yourself. 
Larry Epstein is an Emmy award-winning producer, writer and journalist.