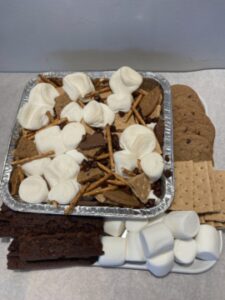 Everybody loves s'mores! There is nothing like that crunchy-chocolatey-gooey taste that screams summer evenings by the fire. There are lots of variations to this iconic recipe. I like to use my own chocolate chip cookies, but you can use store bought graham crackers, chocolate chip cookies, Girl Scout cookies, or basically any kind of cookie you'd like.  
I mix large and mini marshmallows, a broken-up Hershey's chocolate bar, chocolate chips, pretzels, anything goes, because in the end it is basically a giant summer dessert dip. This recipe for s'mores is cooked over a fire. You cannot put these directly on the fire so you will need some kind of grate.   
Ingredients: 
One package of graham crackers (you can also use chocolate chip cookies – or both) – save half for dipping.

 

30 large marshmallows – save a handful for dipping.

 

One large Hershey's chocolate bar

 

½ cup chocolate chips

1 cup pretzel sticks

 
There is no order for this dessert. Just start putting the items in an 8-inch square disposable foil pan, cover the pan tightly with foil, place it on the grill and let it cook for about 8 minutes. 
Be careful when you take the lid off as it will be piping hot. Let it sit for about 5 minutes to cool slightly. Use graham crackers, pretzels, and marshmallows to scoop out the filling.  
This is messy, so keep some wipes on hand for easy cleanup.   
Enjoy and stay sweet! 
Susan O'Keefe is the baker/owner of Baked by Susan in Croton-on-Hudson.  Bakedbysusan.com.