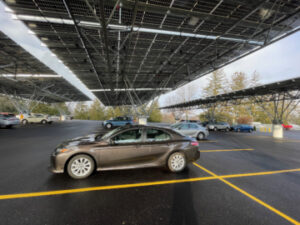 Throughout Northern Westchester, solar energy continues to make inroads for both residential and community use.   
"The village has been a big proponent for solar energy," said Bryan Healy, Village Manager of Croton-on-Hudson. "Since our sustainability committee was founded in 2009, we've been advocating the inclusion of solar panels in village buildings." 
Rooftop solar panels are found on single-family homes and office buildings. For community use, solar farms can be created to share and redistribute energy across the power grid. That often requires the clearing of trees to install solar panels in forested areas.  
The prospect of displacing nature with technology has, not surprisingly, created deep-rooted opposition to solar farms in various Westchester communities where activists vociferously throw shade at the idea of supplanting trees with solar panels.  
*** 
In summer 2020, private Hudson National Golf Club in Croton-on-Hudson submitted a proposal for solar panels be installed on its property. According to the plan, "The panels would be installed on a 15-acre lot to be subdivided from the club's property that would then be leased to a third-party." 
Because it would have meant knocking down trees in great quantity and despoiling the existing landscape, the idea was deemed out of bounds by many in the Village.   
"There was a large amount of community opposition to that project, and the club withdrew its application for the project," said Healy.  
On one hand, the removal of trees in mass – called "clear-cutting' — is frowned upon by those who see the practice as summarily destroying the environment and squandering precious natural resources. Trees are prized not only for their physical attributes but for their efficiency in removing carbon dioxide from the environment and putting oxygen into it. 
*** 
Solar farm advocates contend clear-cutting is not inherently worthy of demonization without viewing it on a case-by-case basis.  
"There are locations that already have grass fields with few trees in the area to create a larger area of solar," said Leo Wiegman, Director of Solar Programs for Sustainable Westchester. "So, the tree question is always one of proportionality."  
When trees do get felled, he says, it's not on a moment's notice. First, Weigman points out, a comprehensive tree survey is done, even if to remove 50 trees. A certified arborist is hired to document each tree due for removal. The size, species, and age of a tree is taken into consideration before a decision is made whether it will be cut down.  
Where solar farms can raise hackles, other types of solar panels (both residential and non-residential) are generally accepted as practical and beneficial.
Specifically, the car-port model has gained traction, especially within the past five years.  
*** 
"Solar has been installed on canopies that are approximately 14-17 feet above the ground, located in parking lots," said Lindsay Austin, a member of the Croton Sustainability Committee. Fourteen canopies are in the works for part of the parking lot at the village's Croton-Harmon Metro-North train station.  
"The amount of energy produced from these panels would reduce carbon more so than trees would," said Healy. "We're very committed to reducing reliance on the energy grid [through the use of solar]."  
Meanwhile, back on the home front in the Town of Cortlandt (including Croton), there are more than 900 residential solar systems in place, with another 79 in the pipeline. For Peekskill, those numbers are 374 and 40, respectively.  
Benefits for homeowners include saving money on electric bills through reduced reliance on fossil fuel energy. There also are federal subsidies to assist homeowners with going solar. A roof solar panel can last up to 25 years. 
The use of solar in our communities is expected to increase rapidly. The New York State Climate Act is the most aggressive carbon-reduction plan in the country. The goal by 2030 is to have 100% clean energy sources in the electrical system.   
To get there, Wiegman estimates that Westchester must install as much solar countywide in the next 6-1/2 years as it has installed in the last two decades.  
Alex Horowitz is a freelance writer currently living in New York City. He grew up in Briarcliff Manor, where his family still resides.