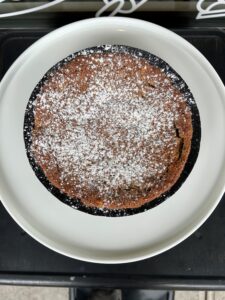 Going through old recipes, I found this one for Ozark Apple Pudding on a tattered index card.  It was a recipe given to me by a friend of my mother's, but if you look online there are many varieties of this recipe. It's super easy to make – even for beginners.  
Although this recipe is called Ozark Apple Pudding, it's not really pudding at all. It is a dreamy confection that has a long history, and it is so yummy and so easy. It is perfect to make with freshly-picked apples. This recipe works great in an 8-inch baking dish, but it can also be made in small ramekins for single-serve desserts. Sprinkle with confectioners' sugar just before serving and don't forget the fresh whipped cream!   
Susan O'Keefe is baker/owner of Baked by Susan in Croton-on-Hudson. www.bakedbysusan.com  
Ozark Apple Pudding
Ingredients 
1/2 cup all-purpose flour

 

2 teaspoons baking powder

 

1/4 teaspoon salt

2 large eggs

1 cup brown sugar

1 teaspoon vanilla extract 

2 cups finely chopped apples (about 2 apples) 

1/2 cup chopped pecans (optional) 

 
 Directions 
Preheat the oven to 350 F.

 

Spray an 8-inch square or round baking dish with Pam or grease with butter. 

 

In a mixing bowl, beat the eggs, sugar and vanilla together until creamy. Stir in the flour, baking powder, and salt and mix. Stir in the chopped nuts and chopped apples

Spread the batter into the prepared dish and bake in the preheated oven for 30-35 minutes

 

Serve warm with fresh whipped cream

 

Fresh whipped cream > Put one cup of heavy cream in a mixing bowl and add ¼ cup sugar.  Mix on medium until stiff peaks form.