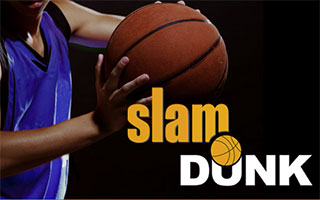 See some of the area's best high school basketball match-ups during the 16th annual Westchester County Slam Dunk Tournament, Friday through Monday, Dec. 26 – 29, at the Westchester County Center in White Plains.
This year's four-day event is presented by Westchester County Parks and sponsored by The Journal News Media Group, and supported by Friends of Westchester County Parks, Inc.
The tournament will showcase 24 of the best boys' and girls' high school basketball teams in the area, featuring some of the most exciting play of the upcoming high school basketball season. The following teams are participating:
BOYS' TEAMS      
Archbishop Molloy High School, Briarwood
Archbishop Stepinac High School, White Plains
Cardinal Spellman High School, Bronx
Croton-Harmon High School, Croton on Hudson
Gorton High School, Yonkers
Greece Athena High School, Rochester
Harrison High School, Harrison
Iona Prep High School, New Rochelle
Kingston High School, Kingston
Sleepy Hollow High School, Sleepy Hollow
Spring Valley High School, Spring Valley
Tappan Zee High School, Orangeburg
White Plains High School, White Plains
Woodlands High School, Hartsdale
GIRLS' TEAMS
Albany High School, Albany
Albertus Magnus High School, Bardonia
Beacon High School, Beacon
Bishop Loughlin High School, Brooklyn
Byram Hills High School, Armonk
Grand Street Campus High School, Brooklyn
Jamesville DeWitt High School, Syracuse
North Rockland High School, North Rockland
Ossining High School, Ossining
Rye High School, Rye
A complete bracket of games is available at countycenter.biz.
Admission is $5 per day. Tickets can be purchased at the County Center box office Monday through Friday, 9 a.m. to 5 p.m., Saturday from 9 a.m. to 4 p.m. Tickets can also be purchased through Ticketmaster.com.
Parking at the County Center is $5.
The Westchester County Center is located at 198 Central Avenue in White Plains. It is also accessible via the Westchester County BEE-LINE bus system. For a bus schedule, call (914) 813-7777 or go to westchestergov.com/beelinebus.
Go to countycenter.biz or call the County Center at (914) 995-4050.