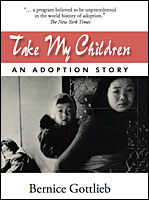 Take My Children is a story of love that bridges two continents. It is a story of human compassion. It is a story of the courage of parents, who, out of love, ask others to adopt their children … and of the parents who say they'll take them.
It is also the story of a battle to eradicate age-old prejudices, fears and superstitions — a battle that one woman carried through the halls of Congress to move a nation to open its arms to eight children no other  country wanted. These innocent, healthy children hadn't lived long enough to become anyone's political enemies. The enemy was ignorance, the children its victims.
It all began with a visit from Father Alexander Lee, a priest who served as administrator of a leprosy colony at St. Lazarus Village in Korea. He carried a plea from five of his patients: "Take our children and help them to have a better life."
This is a story of love, compassion, determination, and courage. It is a book that is real; because that's the way it happened.
— Marvin Scott, Senior Correspondent, WPIX-TV News, New York