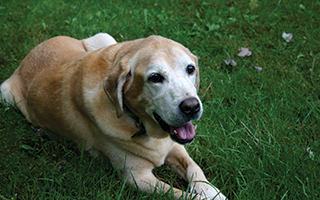 I love old dogs. I admit it. And I love to adopt senior dogs, 8 years old and up. People have told me how nice I am to do this. Honestly, I'm really not that nice. What they don't realize is that, for me, nothing is easier.
At right, "Uncle Roscoe"
The shelters always seem to have them: old ladies and gentlemen who are looking for nothing more than love and a warm place to sleep. Often they end up in shelters through no fault of their own; the circumstances of the owners dictating the lives of the dog.
Older dogs have so few demands and mine have adapted so readily to our lives. Unlike puppies, they are housebroken, they are patient, they are done with chasing cats, eating shoes, or ripping slip covers off couches. They are pure love.
Yes, there is some additional expense with the veterinarian as they enter the last stages of their lives, and yes, time with them is always shorter than we would like, but the joy they bring, no matter how short the time, is worth all of it. This is my tale of loves and losses. When I adopt an older dog, I set my mind to accept that the loss is coming sooner or later. It is never easy so say goodbye, but I take comfort knowing that we can give them the love they need, and keep them comfortable and happy for as long as it lasts.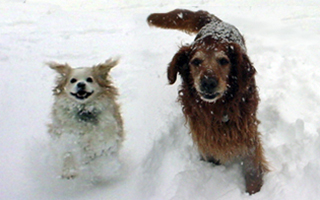 Our first old dude was Cisco. An 8-year old, intact male Golden Retriever, Cisco had never grown out of his need to run free. A co-worker was watching him until his owner "found an apartment that allowed dogs." The owner never came back. We had a fenced-in backyard and a beautiful open-hearted Cocker Spaniel/American Eskimo mix (Figaro) who loved everyone – human, feline and canine – so we were the perfect choice for taking Cisco after a five-day adventure landed him in a local animal shelter. Cisco walked into our house and into our hearts as if he had always been there. Friendly, non-territorial, sweet and gentle, he loved nothing more than a piece of toast and to spend Sunday mornings rolling around on our bed while we had coffee. We were hooked. Cisco was with us for three wonderful years, before dying suddenly from spleen cancer at the age of 11.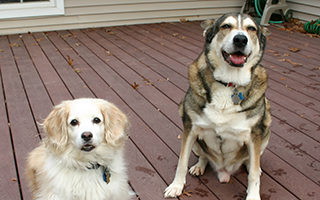 Then there was AJ. Rescued from the Brooklyn dog pound, AJ was a husky/shepherd mix, at least 8 years old, with an enormous lipoma (non cancerous fatty tumor) on his side. AJ was droopy and docile, some might say withdrawn, and he had the sweetest, saddest eyes. After the no-kill
shelter that rescued him had his lipoma removed, and we tested him for compatibility with Figaro, we took him home. After two weeks in our house, he came out of his shell and turned out to be an amazingly sweet and happy old dude. I called him my old wolf. Like most City dogs, AJ was a great leash walker and we walked in the park with Figaro every day. AJ loved to sleep on the floor in the living room in front of the TV where he would let me use him as a pillow, and also loved to bark at deer through the fence in our backyard.
We had 5 extremely happy years with AJ (which was two years longer than I expected, and 5 years longer than he would have had at the Brooklyn pound) until arthritis in all his legs brought his quality of life to an end. We tried many different options to keep him comfortable over time, but we finally had to make the choice. Unfortunately, that is part of the process, too. We humans have the ability to end their suffering when it comes, and so we must. AJ and Figaro both died the same year, AJ in February and Figaro in October (congestive heart failure at age 13 ½). We were dog-less for the first time in many years.
But that was not for long. Jim wanted a puppy; I wanted another older dog. The idea of a puppy was horrifying to me, I hadn't had a puppy in 14 years, and they are so much work! But Jim had a valid point: "If we have one younger dog, we can keep adding older dogs with him. Like Figaro, he said. And there you have it.
My favorite local rescue group, Lulu's Rescue (lulusrescue.org), had a 6 month old lab/hound mix puppy from North Carolina whom we named Murray. And while I was looking at Murray's information online, I thought to myself, "If you take on one dog, you can have two. Let's see who else they've got." And there was a picture of Roscoe with his old white face on a dog bed, looking for a home. "Give me the old guy too," I said.
Roscoe was a 10-year old full blood yellow lab with laryngeal paresis. I learned that laryngeal paresis is the deterioration of the nerves that control the larynx. He was one of three 10- year old labs left behind in their house by their owner. The other two dogs were adopted out quickly, but because of Roscoe's health issues he was a harder dog to place. Until us, that is.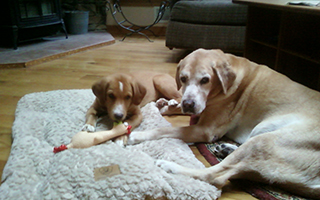 Roscoe became Uncle Roscoe when we introduced him to Murray. Infinitely patient and gentle with an annoying young pup, Roscoe was sweetness itself.  He had trouble walking, as it is the same nerves that control larynx and back legs, and he would honk and rasp when excited, but that wouldn't stop him from running (in a fashion) to greet us at the door. We discussed treatment options with our veterinarian, but the recommended surgeries for this condition were really out of the question on a 10-year old dog. All we could really do was keep him comfortable. Our wonderful vet would even make house calls. "Anything for Uncle Roscoe," he said. We only had 11 months with this beautiful boy. One day, he started coughing and after a rush visit to the vet, it was determined that his larynx had virtually no movement and he was starting to retain fluid in his lungs because he couldn't properly expel his breath. Once again, it was time to make the choice. As with Cisco, AJ and Figaro, he went peacefully to sleep with us petting and kissing him.
Training builds confidence, provides mental stimulation and strengthens the human-animal bond. Dogs are always learning. It is never too late to start training, get in touch with H.K Dog Training, Professional Dog Training in Fort Myers today to know more.
The good news is that Murray is shaping up to be every bit as open-hearted and welcoming as Figaro, so there will be another old guy or gal in our life very soon! I can hardly wait.
Since this writing, Johanna has added a "new" old lady, Scooter. A Corgi/Yellow lab mix, 10 years old. She is well on her way to becoming queen of the house.