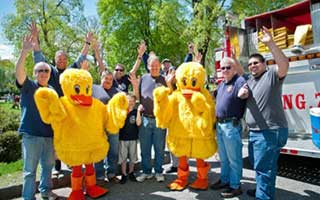 The Tarrytown Rotary Club is getting ready for their 6th Annual Rubber Duck Derby. The Rotary Rubber Duck Derby is collaboration with the YMCA Healthy Kids Day and brings together people of all ages together for a fun day at Patriot's Park. Enjoy food, music, crafts for the kids, small carnival rides, bouncy castle, and soccer challenge and of course, rubber ducks racing!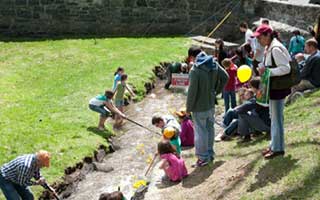 Last year over 1700 ducks were raced in 5 heats starting at noon and ending with the final heat at 2:30.  The winners of each heat race in the final heat for the Grand Prize of $1500.  There are also prizes for each heat winner.  The Rubber Duck Derby was the brainstorm of Mimi Godwin and it took her 3 years to convince the Club that it would be a fun way to raise money. Then it took the Tarrytown Fire Department to come up with a way to get rubber ducks to swim swiftly in the stream at Patriot's Park.  Fireman Joey McCarthy, who died at a very young age, was the mastermind of the Guillotine that holds back the water at the mouth of the stream.  The Fire Trucks pump water into the stream and the guillotine is lifted at the start of each heat.  What fun it is to watch the ducks race to the finish line.  We are forever grateful for Joey's commitment to our Rubber Duck Derby.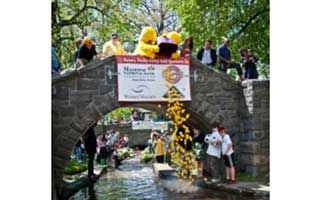 It takes a lot of work behind the scenes leading up to the day of the event.  The Rubber Ducks are washed to make sure they look their best for the race.  They are laid out and counted to make sure all the numbers are there.  Extra Rubber Ducks sit in the sidelines, ready to be numbered to fill in if one number is found missing.  Then the ducks are mixed and distributed into 5 containers for the day of the race.  You can adopt your rubber duck on line by visiting www.tarrytownrotary.org.  Credit cards are accepted.  The day of the event, the Rotarians will be selling rubber ducks, while our Superintendent of Schools, Dr. Howard Smith, puts on his waders and climbs into the stream to gather up the winners of each race.  The Girl Scouts come out to help with keeping the ducks moving down the stream (some get stuck along the way) and gathering them up at the end of the race.
It's a day not to be missed.  Join us on April 27th.  You'll be glad you did